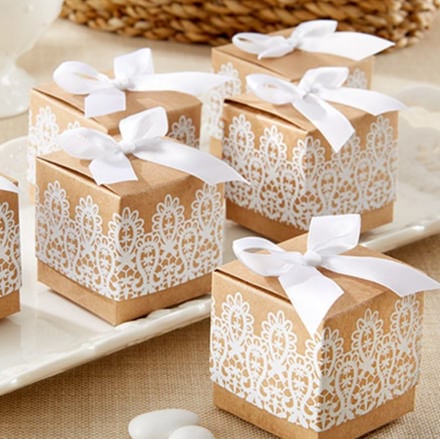 This item includes a kraft card stock favor box with white lace design and white-satin bow placed on top. It measures 2' in. in all dimensions and is sold in sets of 24. Very minimal but easy assembly is required.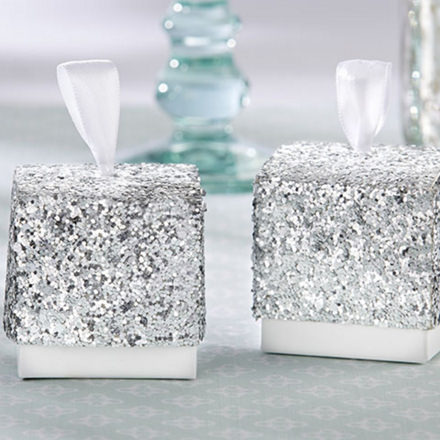 Favor box is made out of card stock with a shimmering metallic glitter top and a white satin ribbon pull. They are sold in sets of 24. They each measure 2.15' in. in height and 2 in. in width. Some easy assembly is required.
Wedding Keepsakes to Commemorate a Joyous Ceremony
Weddings are occasions characterized as life-altering events where joy is a fact that needs little reiterating, and just as with other milestone ceremonies, keepsakes are handed out to preserve a pinch of that joy in physical form.
The basic idea is the same; by providing a keepsake, you are offering your guests a physical manifestation of the joy they experienced at your ceremony, one that they can always turn to to fondly remember the occasion.
What Makes for an Ideal Wedding Keepsake?
Wedding keepsakes are different from those given at other events in certain regards, of which the most important is perhaps style.
Weddings are famous for their lavish aesthetics and impeccable decorative schemes made possible by an ingenuous combinations of décor; it is only fair the same sense of style is captured by the wedding keepsakes.
As a result, it is common to find the same kind of elaborate patterns, colors and fonts on wedding keepsakes as might be found on wedding décor.
Apart from the design of the keepsake, the most important thing is the item itself. Wedding favors are always appreciated by the guests, and when your gifts are creative and thoughtful, the feeling is only amplified. Personalized candles, sparklers and even small packets of flower seeds have found immense popularity in recent years, and are an excellent option to go with.
But wedding favors need to be presented in a manner that is as aesthetically oriented as the wedding itself, and for that purpose, a high quality favor box or favor bag is crucial.
As their name implies, favor boxes and bags are intended to house the wedding favors being given to the guests, and the hallmarks of a good example of this are its attention to detail and its construction, ideally with paper featuring a high GSM ratio.
Another very popular wedding keepsake is a set of miniature wedding bells, which is a remarkably poignant and ornate option to serve as a reminder of where it was acquired. Any personalization you choose to bestow upon it is merely the icing on the wedding cake.
For a more playful gift to celebrate a union in a festive spirit, bubble wands can be handed out to attendees. Few actions better capture the concept of joy as blowing bubbles. The fascination with bubbles goes way back to chilhood and never ceases to bring about a magical scenery. When your whole ceremony is about the idea of joy, could you have a better keepsake?
We Have Keepsakes for Every Wedding
At CeremonialSupplies.com, we share your joy for weddings. By helping you plan and gather the most unique collection of wedding keepsakes for your guests, we proudly partake in the joy of your ceremony. Thanks to our focus on cherry picking only the choicest of wedding supplies, and then measuring them up against our stringent quality standards, you can have a peace of mind knowing that the selection of wedding keepsakes before you is indeed the finest possible.
The excellent selection combined with the easy to use ordering platform makes CeremonialSupplies.com a wise choice. We ensure that shopping for wedding keepsakes is as stress-free as possible so you can focus on the actual wedding planning.