The well-groomed professional will know exactly what to wear for any ceremonial occasion and will do so with the most comfortable, best fitting clothes on this side of Paradise! Nobody ever said that company uniforms must be unfashionably uncomfortable. Corporate wearables for a groundbreaking ceremony will surprise you. At least those in the arsenal of CeremonialSupplies.com, the best one stop shop on the net for items and supplies for grand openings, groundbreakings, military, and similar ceremonial corporate events. Our corporate wearables reflect our search for the best quality manufacturers, with the most comfortable and best form-fitting long sleeve, embroidered Oxford cotton shirt, and cotton/poly wrinkle-free blend shirt, Nike dri-FIT cotton soft microfiber polo shirts, tee shirts, customized masks, and industry approved neon yellow and orange construction safety vests. If you are looking for a team uniform for a sales or marketing meeting, a conference, workshop or a convention where your company will be represented by a team, or several teams of company employees, look no further than CeremonialSupplies.com and shop our corporate wearables. If you are planning a grand opening or a groundbreaking event, let us help you create the professional, cultured and cool look of casual smart, with our long sleeve Oxford material shirts, and our fresh and fit Nike polo shirts. It all depends on the climate!
Oxford Long Sleeve Shirts Are Still the Crème de la Crème in Casual Smart
The fabric that makes an Oxford shirt is a woven pattern that originated in a Scottish mill during the 1800s. The weaving process called the "Panama" weave uses two separate yarns that form a sturdy and highly breathable material. The Oxford shirt has maintained its reputation for a smart, casual shirt that can easily take on a bow tie and a jacket and partake of a 7-course dinner meal, as well as a cool evening game of mini golf. Our elegant and lightweight deluxe pinpoint Oxford non-iron 100% cotton long sleeve shirt for men is the ideal quality shirt for a company logo embroidery. Whether for a special corporate occasion or as part of the savvy wardrobe of a member of the sales or corporate team, this timeless classic is always right. The soft 100% cotton material is light and breathable with a wrinkle-resistant finish, rounded adjustable cuffs, button down collar with tapered seams and back pleat making it everything you want in a dress shirt, with the comfort and feel of a casual, hang around shirt. Look sharp in any of the available colors: charcoal, white, vintage navy, and light blue in sizes Small (S) to 3XL. The Oxford long sleeve shirt is still the most dignified way to look smart and casual while sipping a martini and ordering people about in the hospitality room before the customers arrive. We are kidding of course; they look good too after the customers get there. The deluxe pinpoint Oxford for women is wrinkle-free, easy to pack and wear, and featuring the stylish elements of the classic Oxford, like the tapered seams, the rounded adjustable cuffs, button-down collar, shirttail hem, left chest pocket, and a back box pleat. The deluxe pinpoint Oxford long sleeve shirt comes in women's sizes: X-Small to 3XL.
If you're looking for the perfect VIP garment for an architectural event like a groundbreaking ceremony, or dedication, CeremonialSupplies.com offers the best quality, customizable classic Oxford weave 100% wrinkle-free cotton long sleeve shirts for men and women. The wide selection of colors put you in control of your professional wardrobe, and what message or logo you would like embroidered. Revel in the sturdy, soft feel of quality 100% cotton, with wrinkle-resistant technology that helps you feel as cool as you look. Corporate wearables were never this desirable before. The deluxe Oxford long-sleeve cotton shirts for men and women are perfect for outdoor events like groundbreaking ceremonies, where it's important to look distinct for posterity! You especially want to look your most comfortable sharpest if the media will be at the event.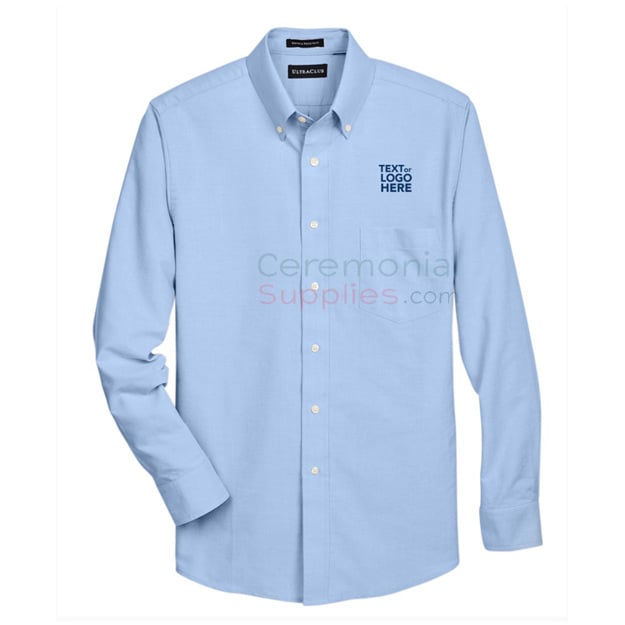 The Classic Oxford Weave In a Blend
This is the tale of a classic, reclassified. The classic long sleeve Oxford weave, in a material blend of 60% cotton and 40% polyester yarns. This means you get the same sharp look as the all-cotton version, but with a softer versatility. The classic wrinkle-resistant men and women Oxford shirt comes in sizes XS to 3XL an in charcoal, white, French blue, and light blue. This classic long sleeve Oxford has a pocket over the left chest and features extended shirttail. The classic Oxford weave in a blend of cotton and poly gives you the sturdy, breathable comfort of an elegant and classy shirt, with a stylish flow. Lightweight and easy to pack, the classic oxford weave cotton and polyester blend long-sleeve shirt is a natural for work, and for special event occasions. Corporate meetings, sales conferences, and trade conventions, can all be occasions to show off your team glam with the classic Oxford ceremonial shirt for groundbreakings, grand openings, and other corporate ceremonies.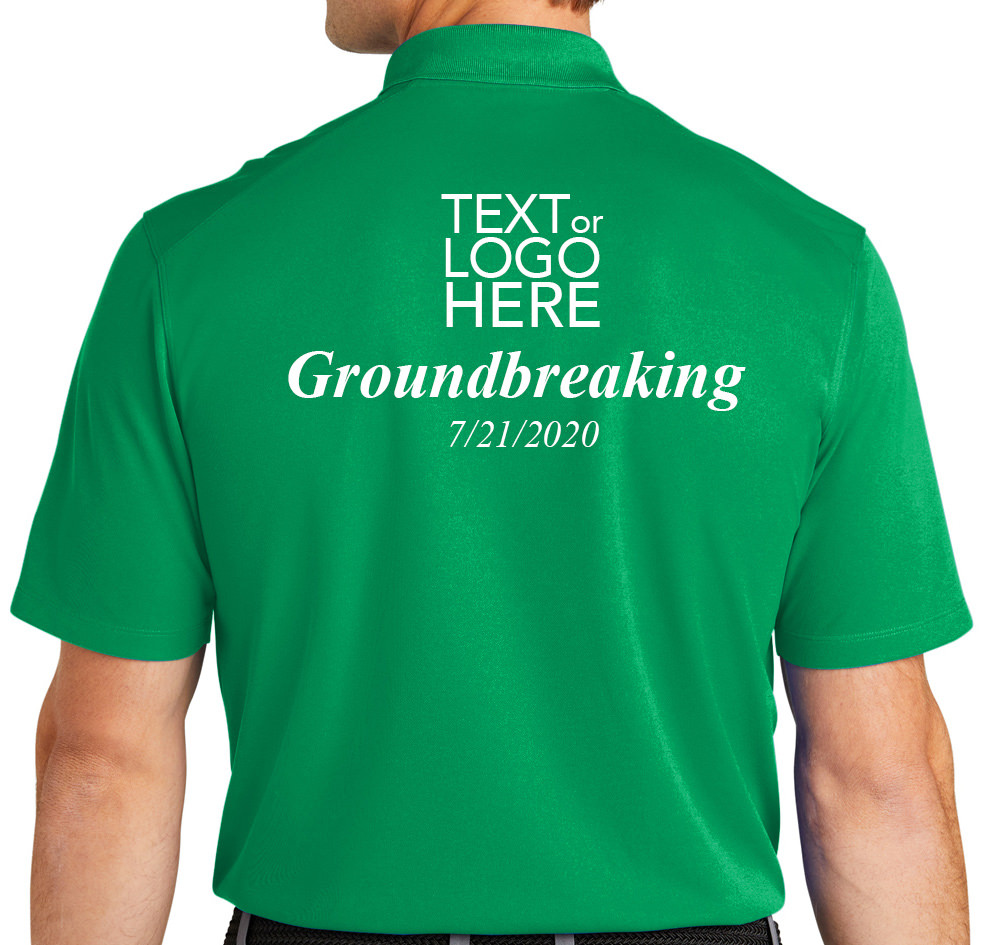 Don't Sweat the Small Stuff With Nike dri-FIT Technology
With the Nike dri-FIT technology you won't sweat the big stuff either. The lightweight, moisture control material of the Nike personalized polo shirt brings all the class and style of the original polo shirt, but with a micro pique technology that makes you feel fresh and dry, and which flows nicely around the torso. Available in blue, dark red, black, red, gold, white, green, purple, pink, light blue, and brown and in sizes Small – 3XL, the Nike dri-Fit polo for men has a flat knit collar, a three-button placket, and open hem sleeves with the Nike swoosh trademark embroidered on the left sleeve. It is perfect for events such as grand opening functions, groundbreaking ceremonies, and other corporate events and ceremonies where feeling as dry, fresh, and confident as you look makes all the difference! The women's Nike dri-FIT polo is made of the same moisture control material in a more feminine shape, and is available in sizes Small to 2XL. From so many colors to choose from, you will find the Nike dri-FIT classic polo shirt that best fits your theme, and style. Corporate wearables that are stylish, fashionable, comfortable and best of all, easy to care for, are the best type of company or brand uniforms.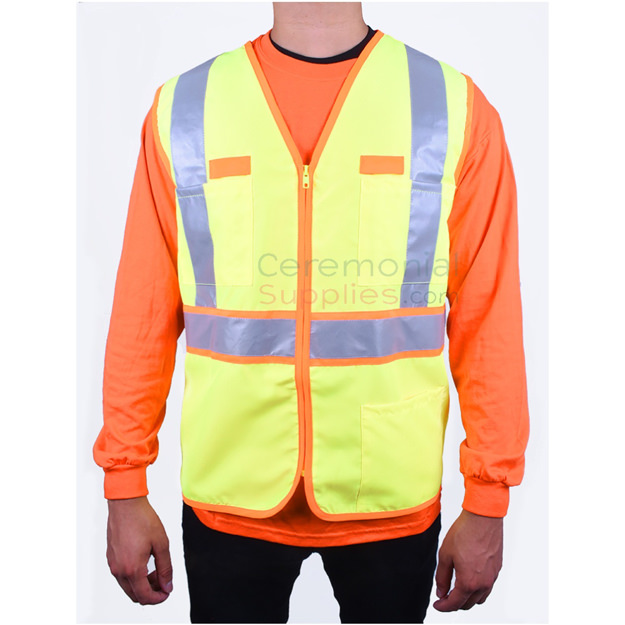 Safety Vests for Safety and Much More
Available in Yellow with Orange piping, or Orange with Yellow piping, our dual color Safety Vest is ANSI/ISEA 107 Class 2 certified, and comfortably elegant to debut a groundbreaking ceremony, complete with customized construction vest, construction hat, and commemorative first sod-cutting shovel. The well-groomed executive can wear a comfortable and elegant Oxford shirt or Nike dri-FIT polo underneath the safety vest, which can also serve to give a colorful unity to a group for a photo opportunity. The dual color safety vest can be customized with a logo, a brand, or a message on the backside of the vest with plenty of room for a clear and defined image. The safety construction vests can be used for work, in the traditional manner used to identify workers, and it can also be used at company functions where you have a large number of guests who may need to identify customer representatives, for example. The use of construction vests has moved from legitimate construction celebrations such as groundbreaking ceremonies, to the theme of "construct" and "building" as in "creating."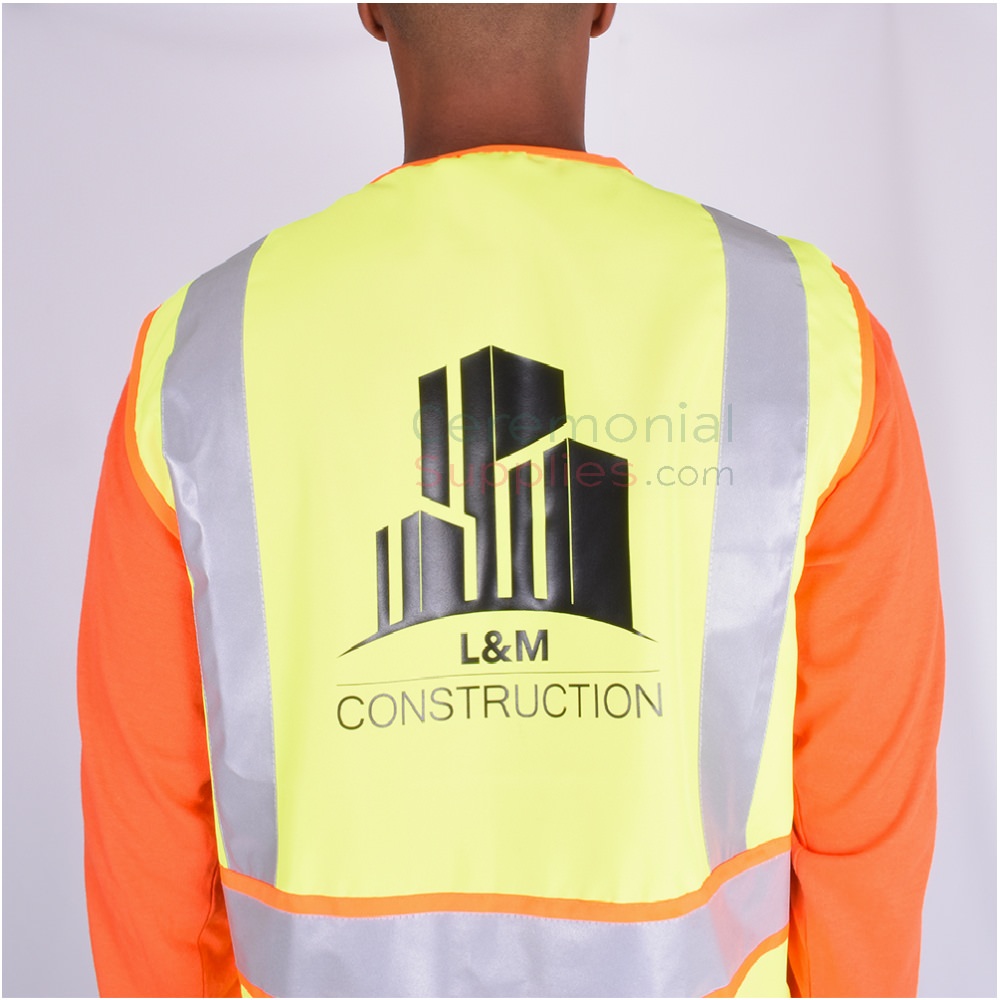 The lightweight yellow mesh construction vest is a more economical version than the orange and yellow dual customized construction vest and it also accommodates a customized backside logo or message. The dual color safety vest and the yellow mesh safety vest are both industry approved, and can be worn as traditionally intended, or as added design elements of style in a themed decoration that involves construction, or construction related elements. In a groundbreaking celebration for example, the food and beverage servers can be identified with customized safety vests, while the corporate team wears a special color polo, or Oxford shirt. The perfect team approach when it comes to corporate wearables is to mix different styles.
From customized masks, to tee shirts, safety vests, Nike polo shirts and Oxford weave classic shirts, the assortment of corporate wearables at CeremonialSupplies.com is all you need to look smart, professional, and totally at ease at your next sales event convention. Click here for a shipping quote.