It's not easy living in a sunny, warm, tropical climate. Dressing for a corporate event, even a casual corporate event can cause stress and anxiety, but the answer is to get a mix of corporate wearables perfect for southern California companies! Sharp but not stuffy or overly dressy, easy to layer if necessary (up or down), and made from a fabric with applied technology that keeps you dry and comfortable under any circumstance. CeremonialSupplies.com, the best online shop for one-stop event and ceremonial supplies is pleased to promote our line of corporate wearables perfect for Southern California Companies and tropical climate corporate fashion.
The Classic Long Sleeve Oxford
This classic has been reclassified and the crisp, 100% cotton, long-sleeve deluxe pinpoint Oxford for men is now available in a softer, elegant and lightweight version that is wrinkle-free and does not require ironing. For people whose every minute is filled with a busy life, this easy, always-ready professional and comfortable classic long-sleeve Oxford pinpoint stitch shirt is the way to go. CeremonialSupplies.com offers customization of the long-sleeve Oxford deluxe in classic 100% wrinkle-free cotton, as well as the non-iron Oxford in a 60/40 cotton and polyester blend. Both classic fit long-sleeve shirts have button down collar, left chest pocket, and extended shirttail. The Oxford deluxe pinpoint in 100% cotton and the Oxford classic 60% cotton and 40% polyester blend are available in men and women sizes from Small to Plus. The perfect attire for a casual, corporate look with comfortable features that can go from daytime meetings to a casual evening dinner without breaking a sweat – literally. As comfortable and fresh as you start in the morning you feel the rest of the day with these corporate wearables perfect for southern California companies, who are climate and fashion savvy! Easily paired with casual trousers, skirt, or Bermuda shorts (depending on the event and venue), this comfortable and ever sharp Oxford style long sleeve shirt is a corporate favorite for the cool, spring or fall evenings in Southern California. Both styles for men and women can be personalized with a company logo, name, or message.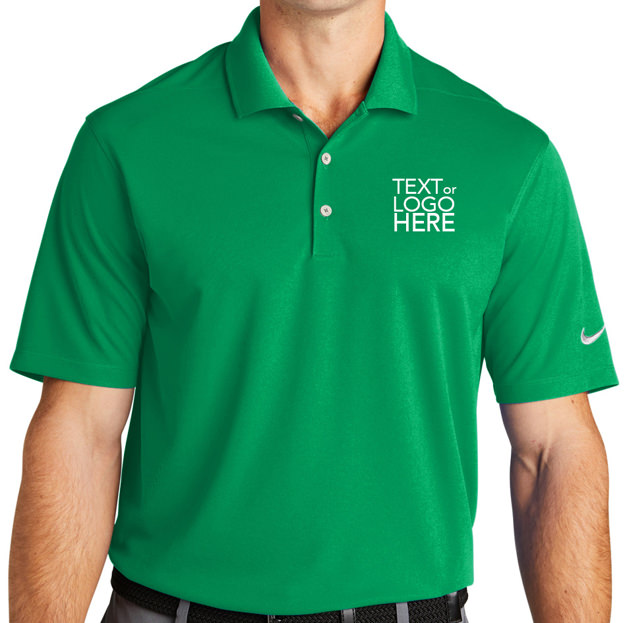 Dri-fit Nike Classic Polo Shirts
There's something about polo shirts that simply exudes confidence and freshness. Those southern California summers when the heat can cause mild delirium (so we have gathered from the local newscasters) demand fashion and comfort for corporate event attire. The polo shirt is, and will always be a staple of casual wear. The classic polo shirt is an accepted uniform accessory in almost every industry. From airlines to the USPS – polo shirts and Bermuda shorts are a perfect combination for a daytime corporate event during hot summer months. CeremonialSupplies.com is pleased to feature the Nike classic polo shirts for men and women, made with Nike's dri-fit pique technology of 100% polyester. The micro woven pique provides a moisture repellant material that forms and falls nicely around the torso, providing ease and comfort of movement as well as a feel of freshness and cool.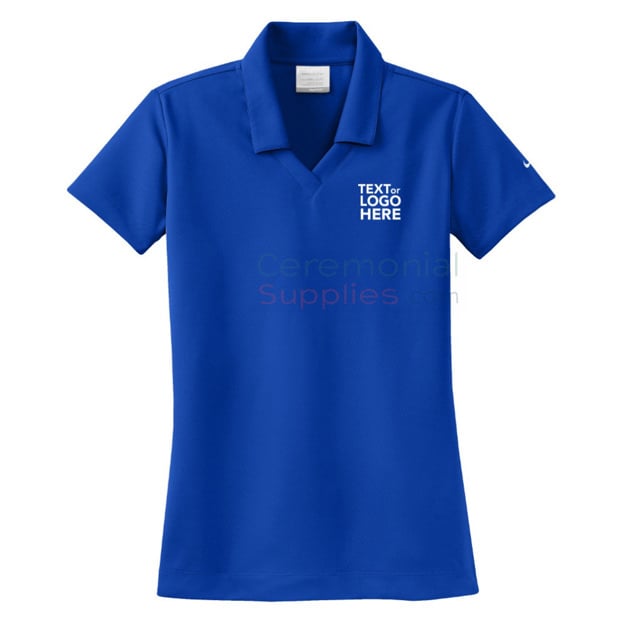 Especially elegant for ceremonial events such as grand openings and ground breaking ceremonies where sharp and practical meet, the ceremonial polo shirt is customizable, with a flat knit collar, open hem sleeves, and a three-button placket. It comes in a variety of colors that can be matched to a corporate color, or a specific corporate color logo can be customized upon any of our available colors: black, blue, dark red, red, gold, white, green, purple, light blue, pink, and brown. The classic polo comes in men's sizes from Small to 3 XL, and in women's sizes from Small to 2 XL.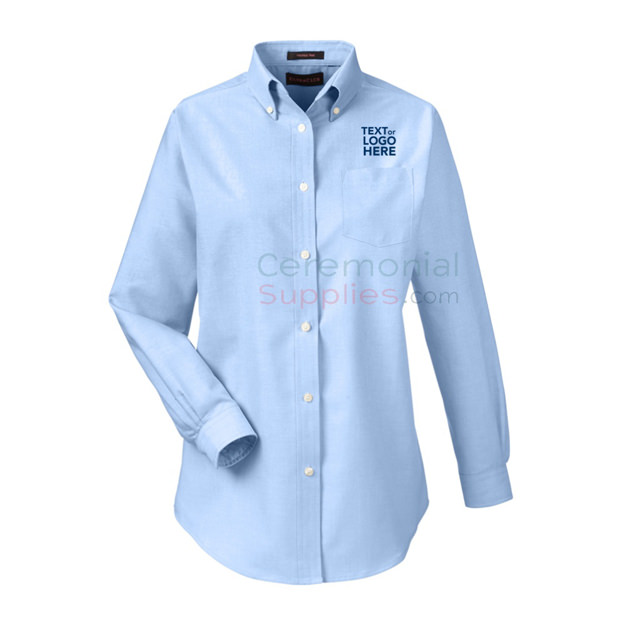 Corporate wearables for Southern California tropical climate should be easy to put on and take off, and provide a comfortable, dry, fresh fit. CeremonialSupplies.com corporate wearables are ideal for outdoor corporate events during any time of the year. Groundbreaking ceremonies, grand openings, and even private home celebrations are increasingly becoming more popular, and each one topping the previous one with events that closely resemble the ancient purpose for these architectural rituals! A groundbreaking ceremony is an ancient practice used by ancient builders to appeal to the positive elements and forces of the natural and supernatural universe, to grant a safe and fruitful construction. Groundbreaking ceremonies often include more than one participant doing the actual sod cutting. Whether it's standing under a tent over a colorful sandbox that symbolically represents the actual soil, or taking shovel to dirt in an actual spot where the construction will take place, dressing in a cool, great fitting and great feeling polo shirt will make all the photo formalities, speeches, and the shoveling of first dirt, a real breeze.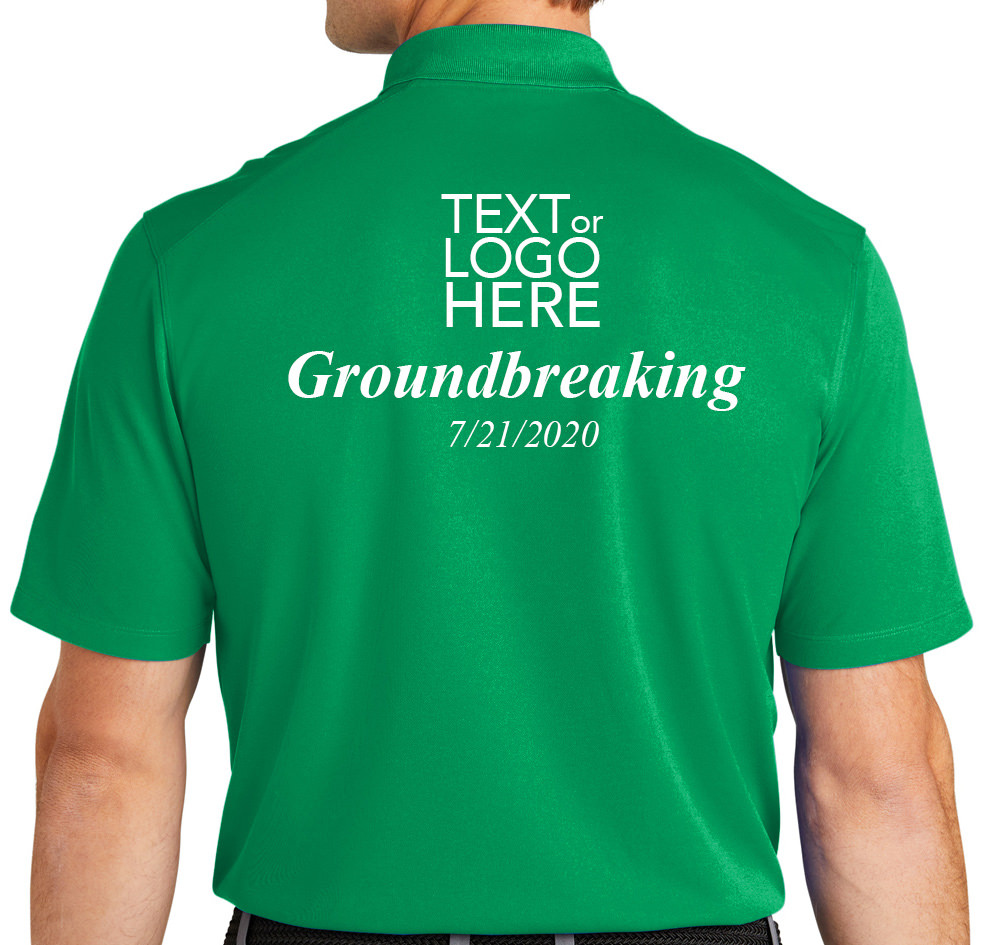 A personalized polo shirt of dri-fit fabric is the ideal corporate garment for a ceremonial event such as a grand opening, or a groundbreaking ceremony. Both tend to take place outdoors, and team participation is a key element to success. The ladies polo shirt, and the men's Nike polo shirt, are both engineered with dri-fit micro technology fabric that keeps you cool and comfortable. The Nike swoosh trademark logo is embroidered on the left sleeve. The women's polo shirt for groundbreaking or grand opening ceremonies has a tailored feminine fit with a Johnny collar, and is available in sizes Small to 2 XL.
The men's ceremonial polo shirt with Nike dri-fit micro pique technology is available in men's sizes Small to 3 XL. Try the comfort of dri-fit technology and feel fresh and confident all day long, no matter what the day brings. Corporate wearables perfect for Southern California companies include the Nike dri-fit micro pique technology classic polo shirt that makes corporate sales teams, events team, and VIPs feel fresh and confident when they wear it. Learn one of the tricks of successful corporate teams and distinguish your staff from the rest at your next corporate event function. The men and women's Oxford long sleeve shirts with two different styles to choose, and the men and women's Nike classic polo shirts are two essential garments for southern California companies whose staff must look and feel as sharp and professional as possible in a tropical climate. Check out our construction vests, masks, and t-shirts for more creative ideas!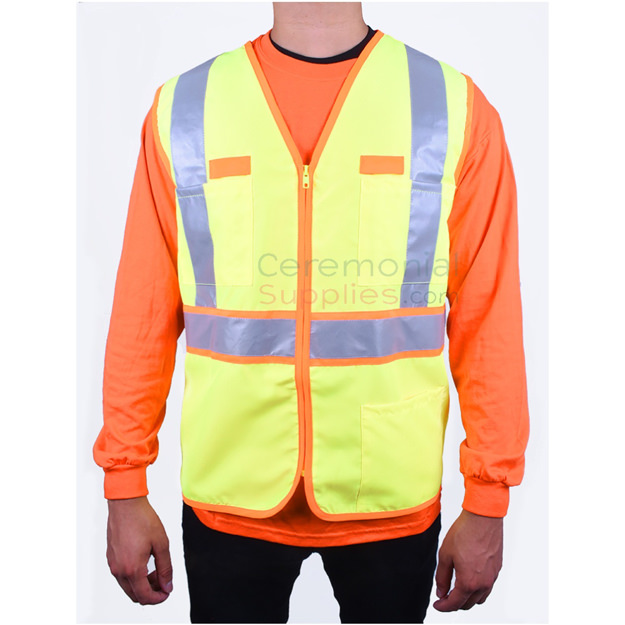 Construction Safety Vests
Our construction safety vests are light enough to use in a building or construction themed event, such as the food and liquor staff of a groundbreaking ceremony, a grand opening, or a similarly designed theme. The dual color safety vest is 100% polyester Oxford fabric, ANSI/ISEA 107 Class 2 certified. The vest has contrast binding, pockets, and a 2" wide reflective tape band in the front and back. The dual color safety vest can be fully customized with a logo and company name. Available in sizes Small to 4 XL.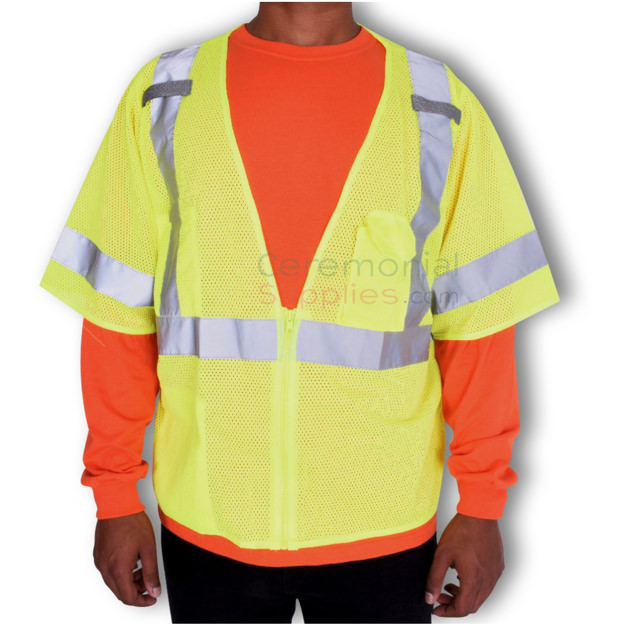 The lightweight breathable mesh fabric of our standard safety vest make it an attractive alternative over a tee shirt! Customizable with backside print, the standard construction safety vest is also ANSI/ISEA 107 Class 2 certified, and available in yellow and orange. Authentic in every way, the standard safety construction vest and the dual color polyester safety construction vest not only provide the unique differentiation to seek for your construction crew, but are perfect to use in corporate events associated with constructions, buildings, groundbreakings, and grand opening ceremonies. CeremonialSupplies.com ships to Southern California and all over the world. Click here for a shipping quote.