We tend to associate the ceremonial Key to the City plaque presentations with boring government ceremonies for retiring officials, but here at ceremonialsupplies.com our ceremonial Key to the City plaques have grown in popularity as special, honorary gifts, and we thought we would share with you some of our own personal or favorite 5 Key to the City occasions that are fun and meaningful!
1 - Celebrating An Important Occasion In A Different City?
Disney World in Orlando is the most popular destination for first birthday party celebrations. Mickey Mouse captivates children and parents live for those happy smiles of recognition. We recently worked on an order for a Key to the City plaque that was part of a gift from the granduncle and grandaunt of a cute one year old celebrating a 1st Birthday in Orlando, Florida. The baby and his parents live in Miami and were staying with the elder couple who live in Kissimmee, Florida and who, were hosting a Mickey Mouse themed birthday party for their grandnephew. With a treasure of adorable outfits and toys, the birthday boy received from his granduncle and grandaunt a Kissimmee, Florida Key to the City plaque in honor of celebrating his first birthday in the city. The Key to the City presentation was the final grand point of the celebration after singing Happy Birthday with Mickey! Ceremonialsupplies.com has a selection of awards that feature the most unique and relevant designs on the web. It doesn't matter if the host city is Miami, Kissimmee, Orlando, or if it's even in Florida, this is simply an example of how a special birthday can be accompanied with a Key to the City plaque to add that special touch that will be remembered by all! The Key to the City in Presentation Box from ceremonialsupplies.com was the item chosen for this 1st Birthday celebration with a photo included!
2 – Give a Key to the City For A 'Bon Voyage' To Remember!
The last decades of the Twentieth Century saw travel records worldwide. With the onset of international or global businesses came face-to-face contact with others from around the world. Colleagues and bosses became friends and travel for work opened the door to many lasting friendships maintained long after technology made travel obsolete. One such case was the friendship established between an international business manager in the liquor industry, based in Ft. Lauderdale, Florida, and a Scotch whiskey Salesman, based in Dumbarton, Scotland. After years of working together on market budgets, sales conferences and collaborating on promotional projects the two became friends and the American business manager hosted his Scottish friend and his family for a vacation in the US. Two families from different parts of the world sharing typical family living along with beach outings, camping trips, city shopping and dining, and popcorn and movies at home. When it was time for the Scottish family to return to Scotland, their American friends wanted to send them off with a memorable Bon Voyage party. The party was a small gathering that featured favorite foods, funny memorabilia, and a power point presentation that included pictures and videos of the places the two families visited together during their vacation. At the end of the presentation the Ft. Lauderdale, Florida residents presented their friends from Dumbarton, Scotland with a Key to the City Recognition Plaque, which also included a group photograph along with an engraved text message on the golden inside seal. A fun and meaningful gift that will be treasured among friends for a long time and will bring memories of time well spent! The engraved text was the name of the two families and an annual vacation with the date. Surely a long cherished reminder of a wonderful time, and, once it is hung on a wall or placed in a curio, the Key to the City Recognition Plaque will be a classic conversation piece.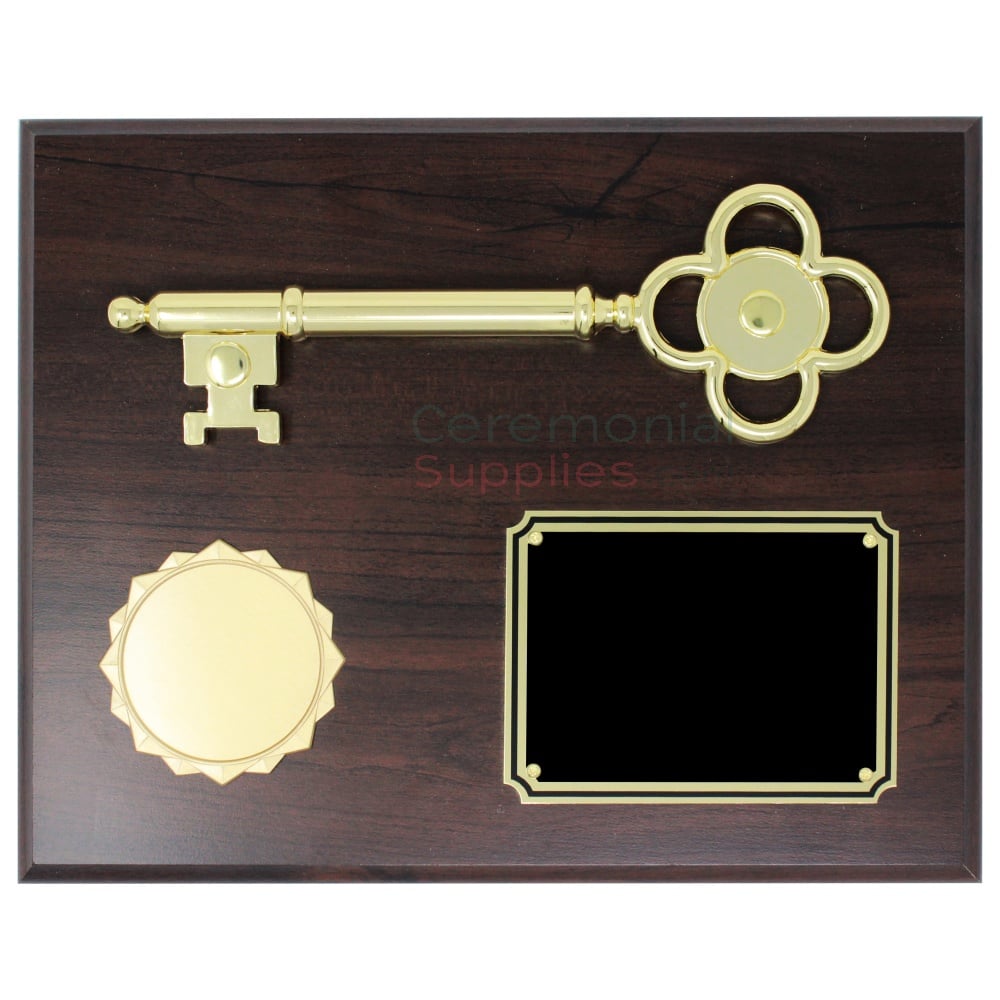 3 – Key to the City Is The Perfect Gift For A Little League Visiting Coach!
What do you give a person who doesn't know where to put his trophies anymore? Little League or Big League, a good coach makes his presence known by firm decisions, respectful interactions, and anecdotes that leave positive, inspirational impressions in learning minds. Sports and business have the same goal. Play and Win. Of course, there's lots to do to get from one to the other. There's the part about enjoying the game, or enjoying the corporate challenges, whichever field a person is coaching. There's the other part about sharing, serving others, lifting spirits, forging friendships, and ultimately creating lasting memories for all the individuals in a team. Whether it's a sports team coach or a commercial high-rise construction supervisor, receiving an acknowledgement from a hosting counterpart is a big honor! In the heart of the Miami Financial district there's a city mall destined for historic posterity. A joint venture company created between the French Construction Company, Bouygues Batiment International, and John Moriarty and Associates built the Brickell City Center project. The construction management firm created was Americaribe Inc., and it included staff from France, from the Caribbean, the United States and other countries. It took a special kind of leadership to manage this impressive project from start to finish, including the ability to lead in several languages! At the intimate grand opening celebration held between new project staff and others who had been working previously for the original two companies, this special person received the Crystal Key tabletop award from his colleagues and employees. This is the kind of ceremonial Key to the City you just can't miss – especially if it's displayed on a desktop or mantle top. Shop ceremonialsupplies.com for the Key to the City design that best suits your presentation!
4 – Recognize Local Personalities Who Make a Difference With A Key to the City!
It's human nature to feel a connection with our city of birth through the people and experiences of those who live or have lived there, especially deep for those who leave their birth place to make it big in the world, and ultimately return to their home town. Celebrities who make a difference are not just musicians and actors. There are people who become national and international personalities because of scientific skills, literary prominence, or by being the best at whatever it is they do. There are heroes from all occupations who make a difference in the lives of their family, friends, neighbors, and fellow compatriots. A great way to honor these outstanding persons is with a ceremonial Key to the City presentation. It's a great way to recognize those who excel and make their mark in the world, putting their hometown on the map. These ceremonial Key to the City recognitions are mostly done at city level with an official ceremony, or by a city association, or group. For example, Captain Chesley B. "Sully" Sullenberger receiving the key to his hometown city for his heroic actions on US Airways Flight 1549 for landing on the Hudson River. World famous crooner Frank Sinatra received the key to the city of Hoboken, his birth town, in 1947 at the height of his career. Honoring people who have contributed to the community or society is a long-standing tradition that goes back to medieval times, and had everything to do with the way cities were constructed in those early days. Major cities for example, Toledo, Spain were built on high ground and were surrounded by fortified walls and gates for the people's safety. When Kings or other dignitaries visited the city of Toledo, they were presented with a key to the gate of the city. The same was done for major merchants so they wouldn't have to pay "tolls" – the equivalent of duties and taxes of today on imported goods. Today there are no city gates to open, although there are legal ways major companies employ to still avoid paying city taxes, today the Key to the City is not a master key to open any house! A ceremonial Key to the City plaque is a symbolic representation of gratitude and trust, making its honoree a most welcomed person in a city.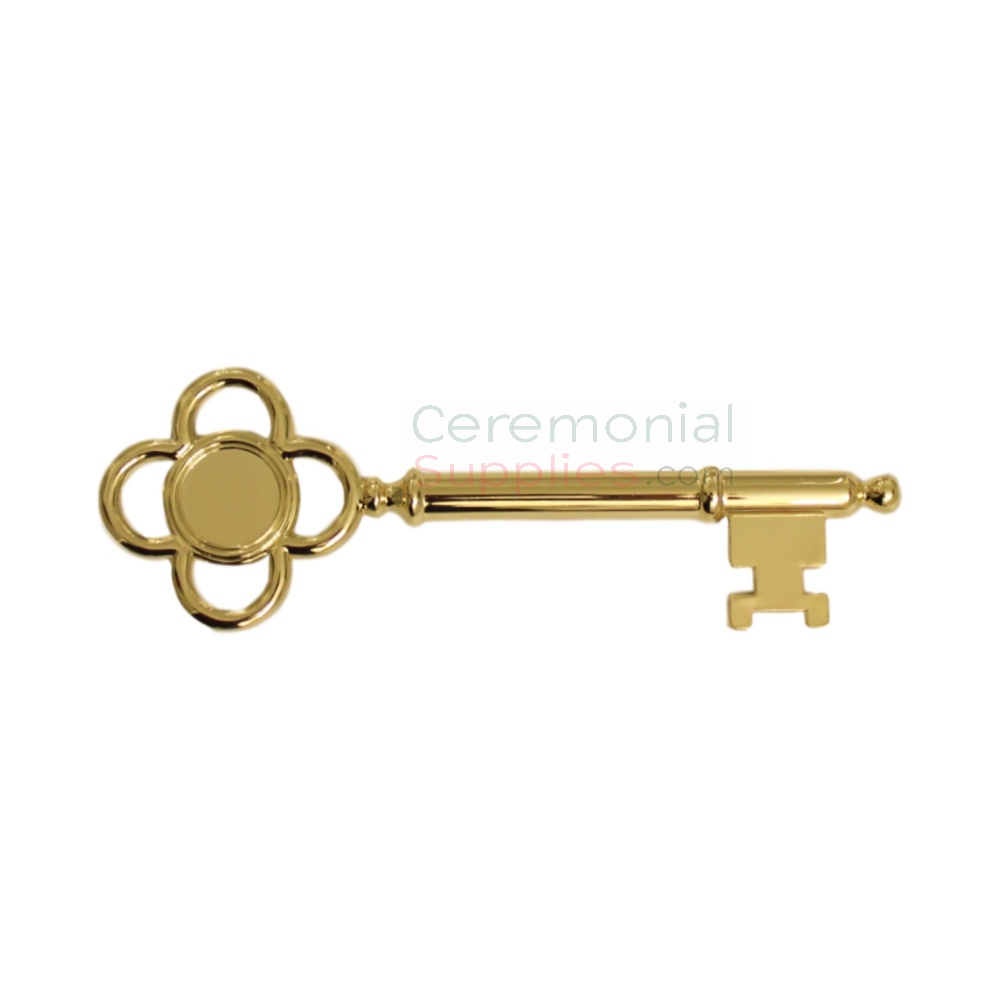 5 – A Key to the City to Say 'Thank You' to a Contributor
Thanking investors, contributors, and political donors has become a popular public gesture! Presenting a ceremonial Key to the City to international dignitaries from other countries is a common practice, just as is honoring investors or founders of special projects. The basic message conveyed in a Key to the City award presentation is gratitude and it is considered a great honor both to award a Key to the City, and to receive one. However, one odd, particular 'thank you' by means of a Key to the City took place in 1980 when the City of Detroit presented a Key to the City to Iraqi dictator Saddam Hussein for making a then extraordinarily sizable donation to the building of an Iraqi catholic center in the Motor City. Saying 'thank you' to those who contribute to the success of a project, be it a government public endeavor or a private enterprise is best said with a Key to the City award plaque or presentation case. Shop our ceremonial keys to the city selection at ceremonialsupplies.com and choose one of our varied styles and price points that best suits your Key to the City presentation and be wowed by our classy products, our friendly and knowledgeable customer service, and our prompt and efficient shipping wherever you are. Party planners and office function organizers will recognize these occasions and others – such as a groundbreaking ceremony for example, as events where VIPs, contributors, investors, builders, commissioners, celebrities, ordinary citizens and dignitaries both national and foreign are thanked for their contribution by receiving the great honor of a ceremonial Key to the City.