Home Grand Openings Give A New Edge To Real Estate Businesses
Friday, June 7, 2019
Grand openings are big events in the life of a company, or a business and even a new home. At CeremonialSupplies.com, the best online store for grand opening ceremonial products, we are seeing the use of ceremonial scissors and ribbons for home grand openings! And frankly, we love it! (Of course, we're biased when it comes to celebratory events). In addition, home grand openings give a new edge to Real Estate businesses.
Realtors, always pushing the envelope and creating innovative ways to promote their businesses, have been introducing the idea of a house grand opening upon the completed sale of a property. This is a wonderful and novel idea that adds a unique touch to stand out from the crowd. Imagine, as part of a home purchase, a home grand opening celebration for friends and family of the new home owners! We know not every Realtor, Realty company or Property Management in town does this, and some haven't even considered it, so we thought this brief guide on how to put together a new home grand opening would help Realtors and Realty companies see the great potential of including a home grand opening as part of the package and parcel when a new home is purchased.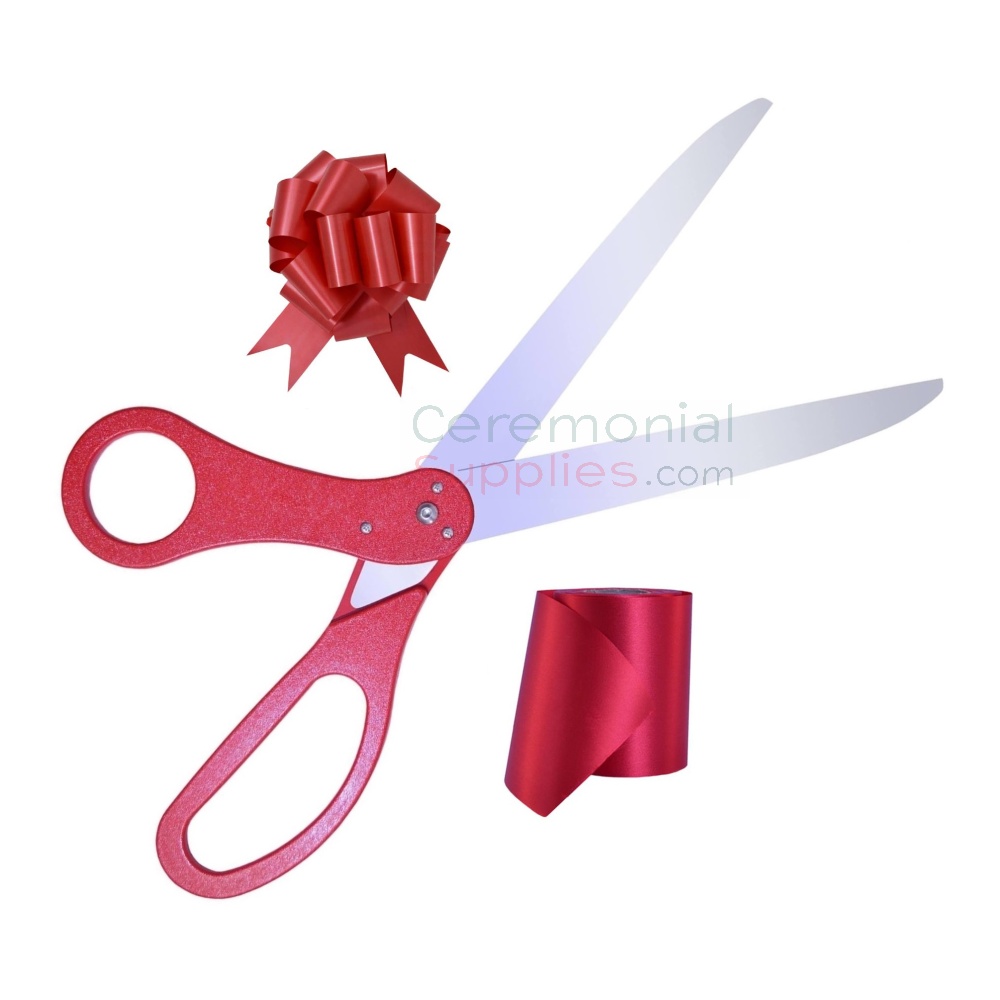 Papers signed, and keys turned over! It's official. A new home purchase has been completed and traditionally the Realtor or Seller is present. It's at this point when the date for the home grand opening is set. The happy home owner(s) are eager to get settled in and you want to allow time for all the furniture to be in its place, the art is on the walls, and everything is at its pristine best! Once the date has been decided and the home owners have sent out invitations, the next step is to get the grand opening supplies.
The grand opening ribbon is going to go across the entrance door. The height of most standard doors is 80" and although there is no standard width, there are common widths - for a single door it's between 30" - 36", and for double doors it's 60" (2 x 30"), 64" (2 X 32", and 72" (2 x 36"). For printed and customized ribbons you'll find the minimum length in the industry is 10 yards. This makes the cost feasible and affordable, and be assured, 10 yards of customized ribbon will find plenty of decorative opportunities inside the home as bunting for a fireplace mantel or around the dinner table, over entryway to the patio or backyard, and if there are columns on the front entryway, the grand opening ribbon can be placed between the columns. Next is the ribbon width, and this depends on the width of the main entryway, and how visible you want the text on the ribbon to be for photos and videos? For example, if you are looking for a grand opening ribbon that will run across two double-door French Doors, a 4" ribbon, which is the common width, will look like a string! A 6" wide ribbon is considered standard for a grand opening, but if you really want to make a strong visual statement, a customized 8" - 12" ribbon is the way to go! CeremonialSupplies.com has a selection of ribbons that range from 4" - 12" in width, and in lengths from 10 yards to 25 yards in increments of five. Choose the ribbon color of your choice, and always remember aesthetics! Light colors on white ribbon don't show up well. Contrast is key. What to say on the ribbon? Entirely up to the home owners, but some popular ideas are: "Welcome To The (Last Name)'s First/New Home," "The (Last Name)'s - Founded in 2019" or "Sweet Home of The (Last Name)s."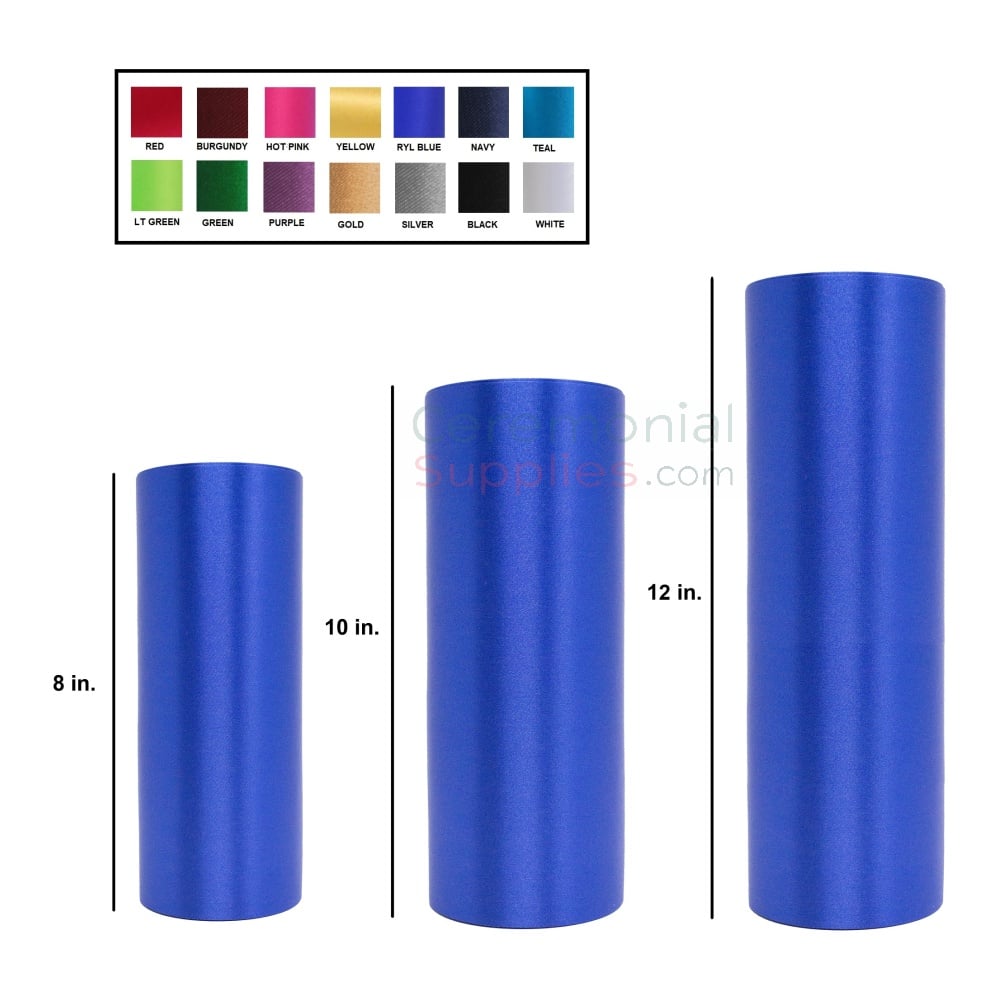 We've all seen photographs of grand openings where two people are holding the ribbon on each end. Admittedly, if you haven't thought of stanchions, this is the next best thing but be prepared for a crooked ribbon line and awkwardness. Stanchions are made to hold grand opening ribbons securely so that all the focus is in the center, where the ribbon cutting will take place. CeremonialSupplies.com has a variety of stanchions for you to choose from, and our staff recommendation for home grand openings are, either the classic, dome top brass stanchions, or the sturdy, outdoor weatherproof polyethylene hitching post style stanchions that come in black, white, or yellow.
Next, we come to the object of our attention - the ceremonial ribbon cutting scissors! With this item, which along with a portion of the ribbon the home owners will want to keep and even display, you have many choices. What color handle, and what color blades? The blades can be either gold, or silver but the handles can be of any of a variety of colors, and at CeremonialSupplies.com we have the main ones: red, blue, white, maroon, black, pink, orange, teal, light blue, and yellow and we offer the option of combining two-color handles! The ceremonial scissors are available in 25" which is a little over 2' or, 30" which is 2 1/2'. These giant grand opening scissors are the main focus of the home grand opening, and along with the ribbon, they can be customized with text or a family crest on the blades. Before the ribbon cutting and after, the giant scissors have to be kept somewhere. For this purpose we have the scissors display stand that shows off the giant scissors and acts, just like the personalized ribbon, as a photo prop where family and guests can take pictures and videos.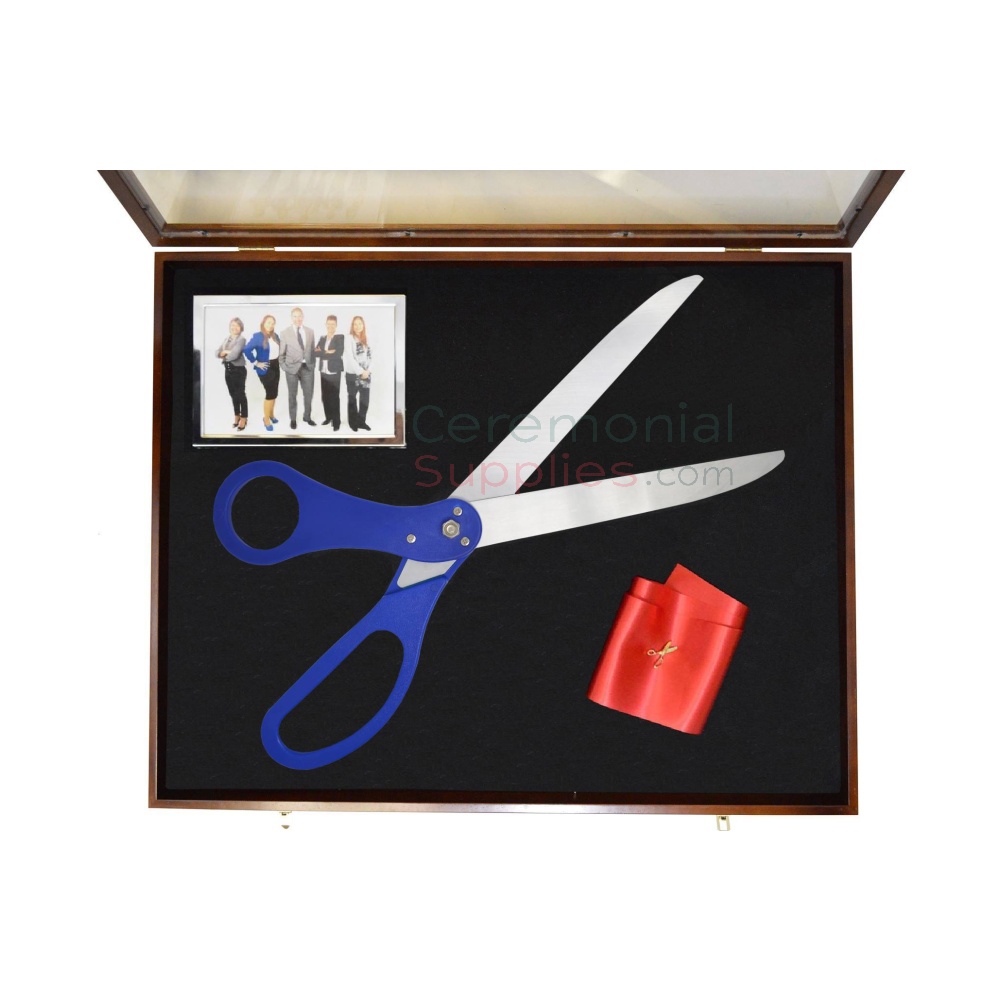 A home grand opening is a lot of fun. It's a time when the home owners show off the property they're so proud of, and an event that's treasured in videos and photographs. To hold the precious keepsakes from this momentous occasion for a new family, or an established family with a brand new home, CeremonialSupplies offers glass-top display cases that serve to protect and display the ceremonial scissors, a piece of the ribbon, and photographs of the event.
Real Estate is a competitive field and anything that sets you apart from the rest will always work in your favor. For your next home sale, shop CeremonialSupplies.com for the essentials! You will love our friendly prices, appreciate our knowledgeable and attentive customer service, and you will be pleased with our prompt and efficient shipping wherever you are in the world! Click here for a shipping quote.