A groundbreaking ceremony is a significant occasion in the life of a company or a business. It's a landmark event meant to be remembered, and Ceremonialsupplies.com has selected our own favorite gifts and commemorative items to bring you the five best keepsakes for groundbreaking ceremonies. These are valuable mementos that will be appreciated by the recipients and proudly displayed.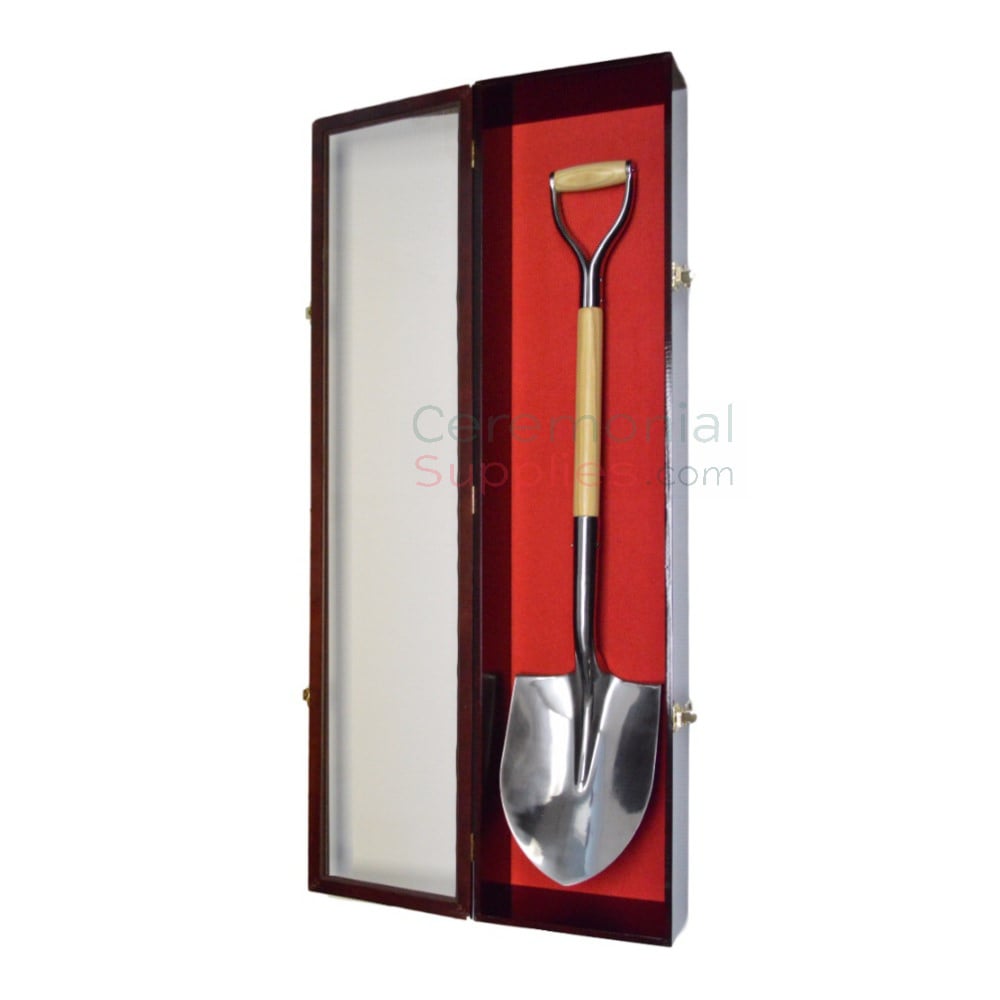 1. The Groundbreaking Shovel and Keepsake Display Case
The groundbreaking shovel used in the ceremony is an elegant and stylish memento that is usually awarded or presented to the Owner, CEO, and other VIPs who took part in the actual sod-cutting ceremony. Presented in its own display case, the ceremonial shovel is well protected and beautifully displayed. The groundbreaking shovel and keepsake display case is perfect for the boss' office, the company's conference room, or the reception area for everyone to see. Ceremonialsupplies.com has elegant choices to pick from, available in cherry or oak. You can choose the display case that holds up to two (2) full size cremonial shovels and one (1) hard hat and includes an 8" x 5.5" gold color engraving plate. The interior cover is a black felt material that makes the items inside pop out. The single groundbreaking shovel display case is another fancy option with wood color options in oak, walnut, cherry, and black. The interior color options include red, blue, black, white, and green. This beautiful and stylish shovel display case comes with hardware for wall hanging. Whatever style you choose you can rest assured that this keepsake is a distinguished way to display and preserve your ceremonial groundbreaking shovel.
2. Groundbreaking Hat and Shovel Desktop Trophy
The perfect keepsake for a presenter at a groundbreaking ceremony. Groundbreaking ceremonies usually include presentation speeches made by visiting VIPs, invited government officials, and/or members of the clergy and it is important to thank and acknowledge the contribution of these outstanding community leaders. The groundbreaking hat and shovel desktop trophy will do this and more! Meticulously crafted of resin material, this 6" wide by 6" height and 3" depth, metal-coated hardhat and shovel miniature with a base cast stone is a beautiful display piece that commemorates a groundbreaking event. Ceremonialsupplies.com, the best online one-stop shop on the net for ceremonial items such as groundbreaking shovels, hard hats, shovel display cases and stands, has one of the most comprehensive selection of keepsake and gift items that are sure to be appreciated by attendees and participants of a sod-cutting ceremony. The groundbreaking hat and shovel desktop trophy includes a front plaque for text engraving a date, a company logo or name, or similar message.
3. Tall Groundbreaking Hat and Shovel Desktop Trophy
This taller version of the hat and shovel desktop trophy stands at 8" high and includes a base featuring a gold plate for up to 4 lines of text customization, with a miniature replica groundbreaking shovel and hard hat in front of a tall slab of concrete. This classy groundbreaking construction trophy is ideal for those important VIPs who participate in a groundbreaking ceremony. This is the perfect recognition award for the chiefs of the construction company undertaking the building project, for speakers and presenters, and for any VIP participating in the ceremonial event. This elegant trophy is a lasting keepsake of the event and can be customized with a person's name, the name of the construction project and date, or any other message. It's not every day that a groundbreaking takes place and this beautiful keepsake shows appreciation and gratitude to those important individuals whose participation made it all possible. Acknowledge and recognize your VIPs with this groundbreaking construction trophy to foster pride in your new project!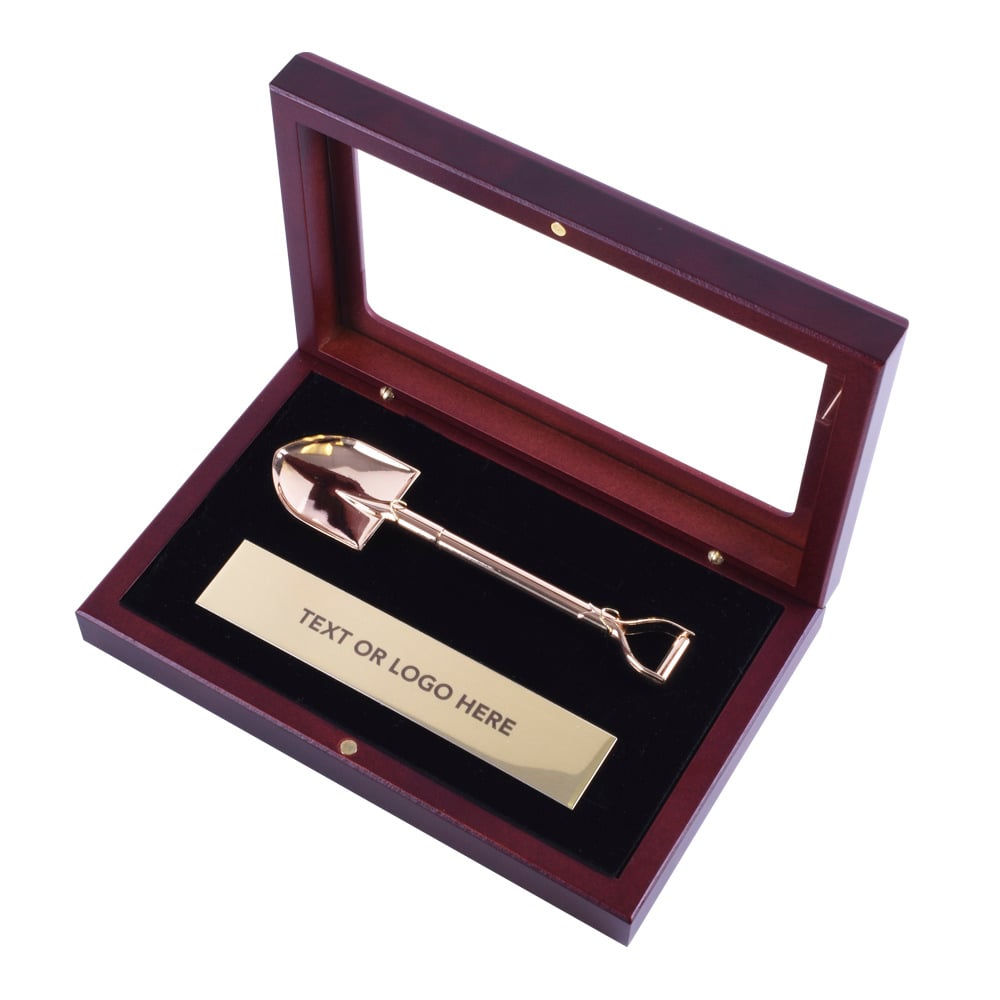 4. The Groundbreaking Mini Shovel Display Keepsake
The groundbreaking mini shovel display keepsake is a lovely and practical memento to acknowledge and recognize important VIPs at a first sod-cutting ceremony. This stylish presentation mini shovel display case includes a cherry wood display box that holds a mini golden shovel with a golden, customizable plaque that can hold the logo, company name, and commemorative date of the groundbreaking, or a similar message. The display case is made with a smooth finish, a clear view window, and comes with a magnetic closure to make this mini shovel display case a valued gift for a participant of a groundbreaking ceremony. A groundbreaking ceremony will have a number of people take part in the actual first sod-cutting, and the groundbreaking ceremonial shovel they each use is presented to the individual at the end of the event. However, there may be other, important VIPs that you may want to thank and acknowledge, awarding them with this smoothly crafted cherry wood finish display case, and mini groundbreaking shovel keepsake is perfect to make someone feel important, and appreciated. This special mini groundbreaking shovel display keepsake can be placed on a mantel, a desk top, or hung on the wall.
5. The Customizable Groundbreaking Mini Shovel Plaque
A groundbreaking ceremony is an important event, and you will want every item to portray its importance. This beautiful display plaque will do just that! The groundbreaking shovel plaque is 10" x 8" and features the slick, smooth feel of nicely polished walnut wood finish. The plaque holds a miniature golden sod-cutting shovel, a golden seal insert that can be customized with a logo, and a commemorative plate that holds up to 6 lines of engraved text. This customizable groundbreaking mini shovel plaque is an excellent keepsake or memento for participants or guests at a first sod-cutting event and is sure to be appreciated by its recipients for a long time to come.
Recognition plaques and trophies like these shown here are available at Ceremonialsupplies.com in our selection of groundbreaking keepsakes and gifts. Shop for these ceremonial groundbreaking items and more at ceremonialsupplies.com, for high quality items, wallet-friendly prices, and prompt and efficient shipping anywhere you are. You will love our attentive and knowledgeable customer service and you will be pleased with the accolades received when you present any one of these keepsakes to recognize participating VIPs to your event! Click here for a shipping quote.