Grand Opening Signs that Catch the Eye
Tuesday, August 7, 2018
Grand openings are the perfect first steps towards the successful launch of a new business or a new business location. They provide an easy and affordable way for businesses to advertise their brands and services. Grand opening signs that catch the eye are essential for these functions because they are the first communication you deliver to your community announcing your business. At CeremonialSupplies.com we have a variety of items specially designed to remove the pressure of organizing this type of event with readily available accessories that will make any opening ceremony stress-free from announcement to execution. Keep in mind that the goal of a grand opening is to catch the eye of the community, draw an initial crowd from which to build a loyal following and become memorable to a target audience to make them future customers. You can achieve this by following some simple and easy best business practices.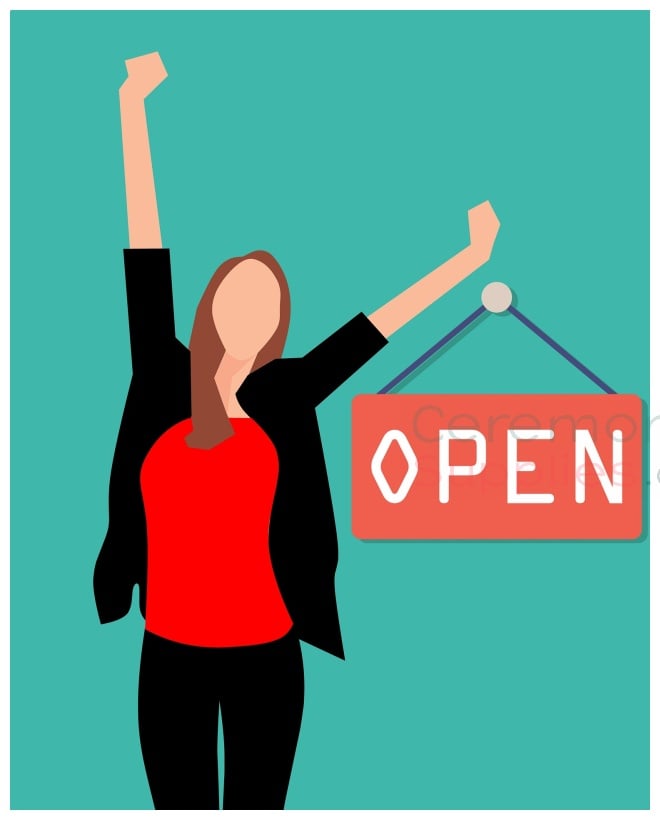 Different Styles for Different Crowds
Grand opening signs come in an assortment of shapes and sizes to create attention-grabbing displays. CeremonialSupplies.com offers a selection ranging from backdrop signs to flag and pole kits and also includes multiple large grand opening banners to choose from. These large banners are an essential tool for publicizing your event. Their size, ranging from three to eleven feet in length, is a vital characteristic to consider when determining which sign will most effectively fit its purpose. For example, vertical lamp posts signs, such as those that come with the flag and pole kit, are an excellent way to acquaint individuals with the opening from a distance. Backdrop signs, on the other hand, can be useful in advertising the business opening from a shorter distance, which is just as important. You choose which combination of advertising techniques is best for your opening ceremony and CeremonialSupplies.com will customize your grand opening signs to fit your style!
Where to Place Grand Opening Signs For Best Effect
Grand opening signs are strategically placed where they can draw the biggest crowd; therefore, it is important to choose the right one. For outdoor placements, signs that are hung from a pole are best. These large signs can withstand any weather condition, freeing the business owner from the worry of having to manually take them out each day and instead allows them to stay put for constant exposure to the public. The flag and pole banner kit is also perfect for outside placement in heavily populated areas around the business, and due to their size, the message is delivered across a longer distance, bringing in more traffic to the area. Smaller, hangable, weather-resistant banners can be placed directly outside of the business to provide proper indication of where the grand opening ceremony will take place, and will add another layer of exposure for people who pass by the location. These smaller signs are a key advertising technique to target local customers who may see the site often and remember the grand opening banner placed outside. Indoor grand opening signs such as small grand opening banners and backdrop signs also play a central role in publicizing to a larger audience. The backdrop grand opening signs, which are commonly placed indoors, create a seamless background for pictures that can be posted online, expanding the publicity beyond local passersby to the internet.
Grand Opening Signs: The Colors That Catch the Eye
Grand opening signs need to effectively bring in traffic to a business, which can be done through placement as well as the design of the sign itself. Besides the size, the color can be skillfully used to entice new potential customers. Red is the most popular color in advertising because it literally commands the visual attention of our eye-to-brain impulse. Other popular marketing colors offered on grand opening signs by CeremonialSupplies.com include blue and black. Blue offers a cool, steadfast touch to a sign while black acts as a contrasting color to add attention to the message. Whatever the size, color, or type of sign you're looking for, CeremonialSupplies.com has the right one for you! Shop our website for everything you need to make your grand opening a successful and memorable event!