Custom printed tablecloths can serve various essential purposes at large conferences, and CeremonialSupplies.com is your best one-stop shop on the net for all your conference essentials! We love to customize – there you have it, we totally admit it; our groundbreaking shovels, our grand opening ribbons, event mats, ceremonial scissors, display cases, oxford shirts, all of our stuff looks absolutely brilliant with customization. Don't take our word for it, take a look. Starting with our recommendation for the best 5 uses of printed tablecloths for large conferences, check out our other personalized items and enhance your overall conference experience: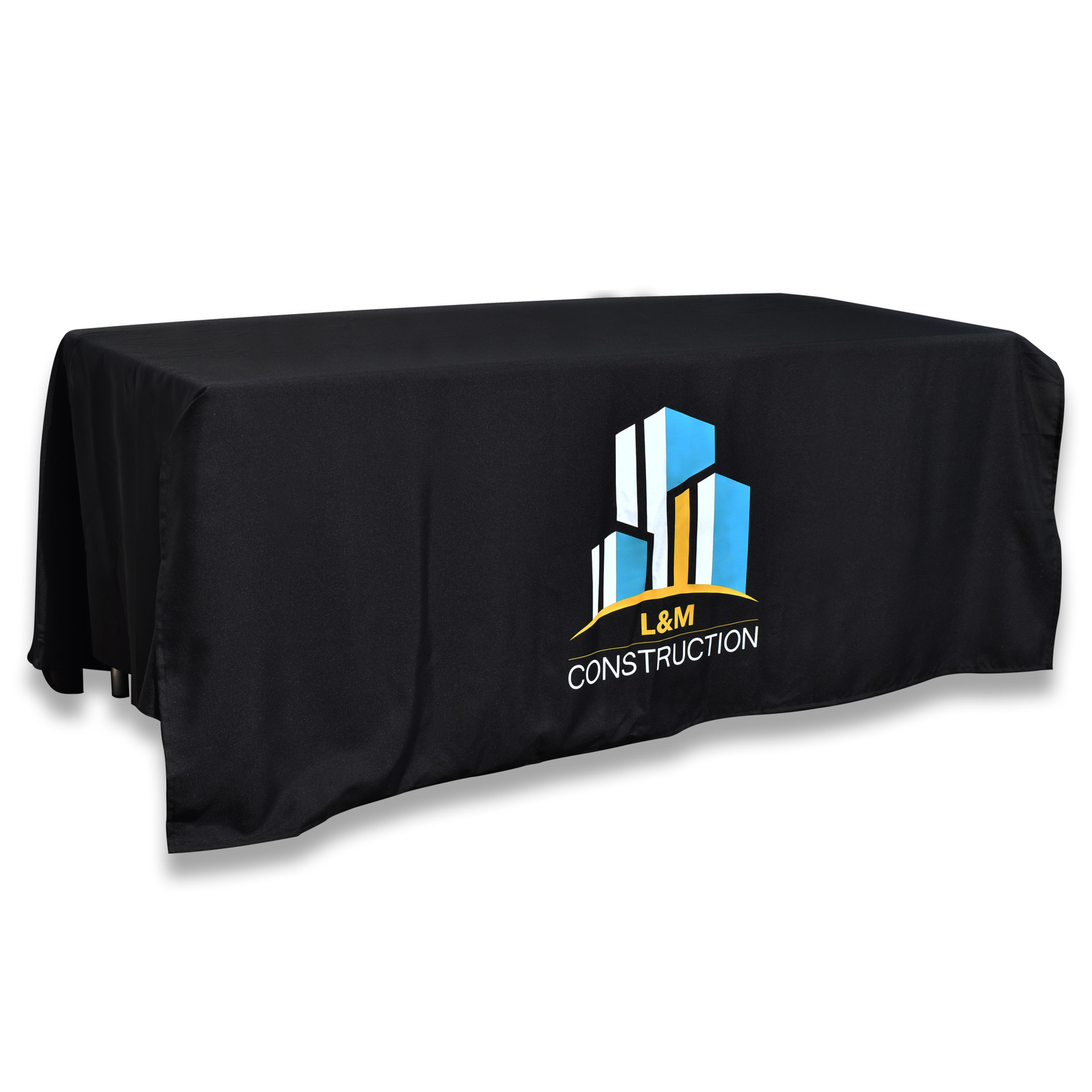 1. Branding and Visibility:
The main reason why high profile corporations, conglomerates, and small mom and pop stores alike participate in fairs, conventions, and conferences is to create top of mind awareness by using branding and visibility. Custom printed tablecloths are a powerful branding tool. They can prominently display the conference logo, a specific theme, or sponsor logos, ensuring consistent branding throughout the event. Attendees, speakers, and sponsors will easily identify the conference's visual identity, increasing brand recognition and visibility.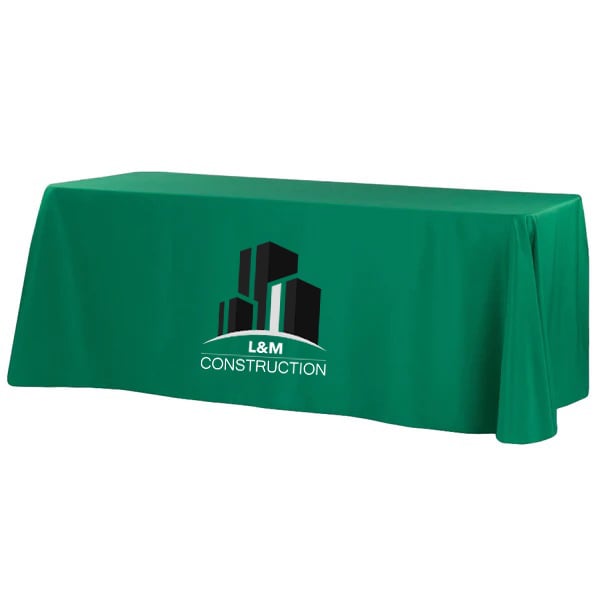 2. Information Stations:
Large conferences often have numerous information stations, such as registration desks, information booths, welcome stations, and help desks. Custom printed tablecloths can transform these stations into professional and welcoming spaces, easily recognized by clients, members, and especially by potential clients, customers, and members. Information station desks displaying a custom printed tablecloth with logo, or a custom printed tablecloth with brand name, are not just elegant and professional, they also provide a focal point for information. They can display relevant information, directional signage, or contact details for attendees' convenience, but logo printed tablecloths are a quick eye-catch for those you wish to attract.
3. Exhibition Booths and Vendor Tables:
Conferences and industry conventions usually include exhibition areas where vendors and sponsors showcase their products and services. Before registering for conferences and conventions, merchants and retailers usually first attend on an exploratory basis. One such industry convention is the Duty Free industry Tax Free show held annually in Cannes, France. The second largest convention in Cannes after the film festival. A new vendor starting in the Cannes Tax Free Show must start with their ducks all in a polished row! This means looking around the convention floor and seeing first-hand how the booths are set up, and what company is where, and in what booth? However there are vendors and merchants who are starting out, and are not affluent enough to foot a recognizance mission and attendance. These first-time exhibitors are sometimes obvious by their lack of polish, and consequently the audience they seek, may not be able to find them. When you prepare your exhibit booth or vendor tables, be sure to get the exact dimensions of the booth space and the exhibition table. Next, visit CeremonialSupplies.com and order your company branded tablecloth, your logo printed mat or event carpet, and a background banner, or step and repeat. These custom printed items can give a polished and branded appearance to exhibition booths, attracting a greater variety of visitors, including seasoned participants on the market for something new and sharp. Let your branding do your talking and set yourself apart from others.
4. Speaker and VIP Areas:
Custom printed tablecloths can be used in designated areas for speakers, VIPs, or panelists. VIP areas or activity designated areas with branded logo tablecloths offer a natural welcoming space. A coffee merchant at a convention for example, would benefit from sponsoring a coffee break VIP section because it would provide brand exposure. Using branded tablecloths with printed logo would make the sponsorship much more effective in terms of recognition and promotional value. Branded tablecloths add a touch of professionalism and make these areas easily recognizable for attendees seeking interactions with speakers and other distinguished guests. A custom printed tablecloth is a must for a panel session. Panel sessions are usually filmed live, and almost assuredly always recorded. Having a custom logo printed tablecloth ensures the visibility and identity of the panel discussion host. Custom logo printed tablecloths and custom logo printed mats or personalized carpet runners all provide an attractive addition to your conference supplies, but in the case of a panel discussion, they are absolutely vital!
5. Networking and Breakout Areas:
Large conferences can become overwhelming for attendees. Custom printed tablecloths in networking or breakout areas offer a sense of coherence and organization. They can also feature interactive elements, such as QR codes or #hash-tags, to facilitate networking and encourage social media engagement. Much like we covered in point 4 – using personalized logo- printed tablecloths can create a welcoming break out area, and offer familiarity and trust. Ideal sponsors of break out areas or networking spaces are companies or brands that are relevant to the hospitality industry. Some examples are drinks and refreshments, food, furniture, communication providers, etc. A sponsored breakout area will benefit from CeremonialSupplies.com selection of custom printed mats, logo printed carpets, custom printed tablecloths, and other customized supplies.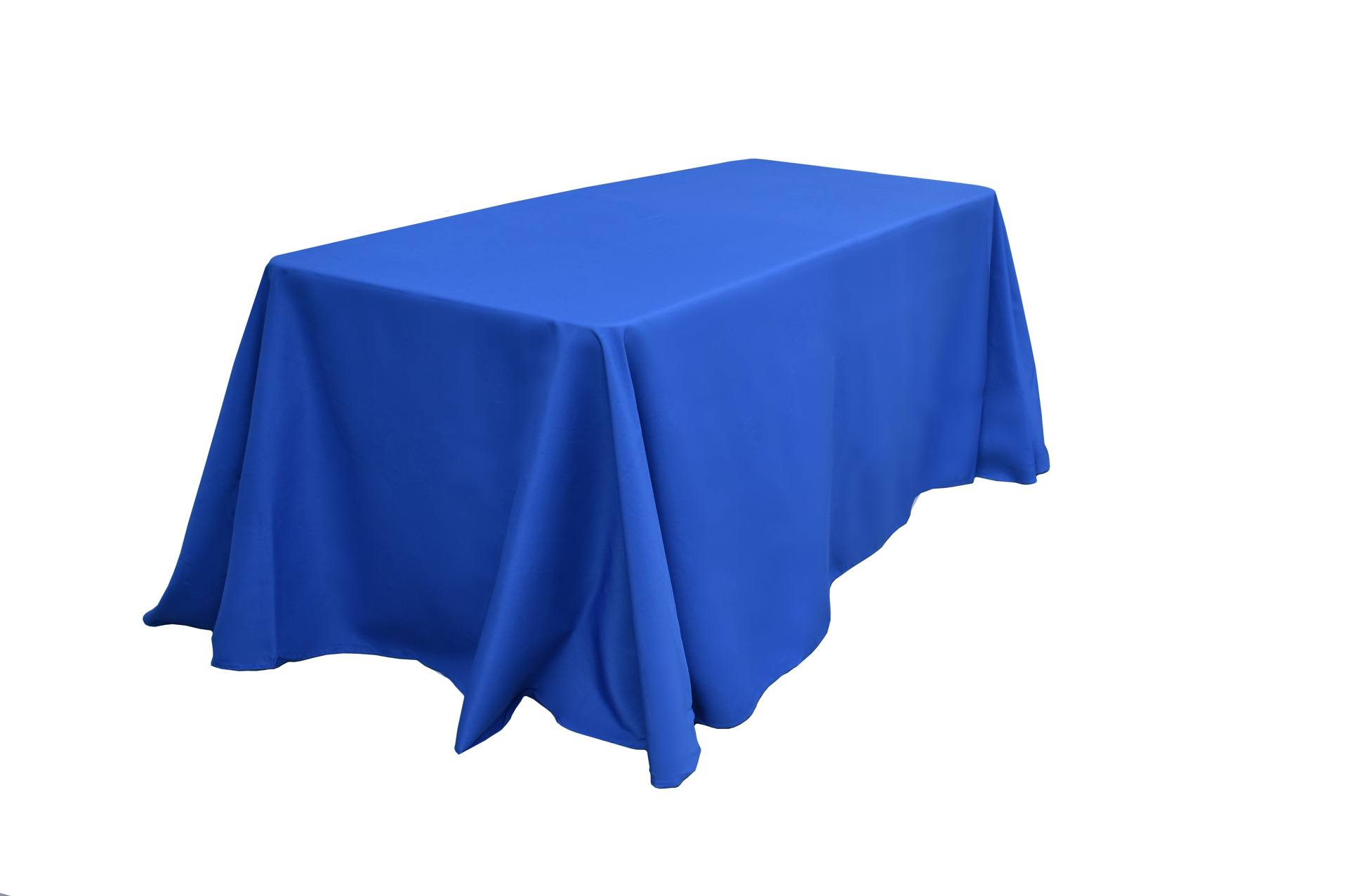 In addition to these uses, custom printed tablecloths can be used creatively to enhance the conference experience further. For example, they can feature inspiring quotes, event-specific #hash-tags, or QR codes that lead to exclusive content or resources. By strategically incorporating custom printed tablecloths throughout the conference venue, organizers can not only improve the aesthetics but also create a cohesive and memorable experience for attendees, sponsors, and speakers alike. Shop CeremonialSupplies.com for all your custom logo printed tablecloths, event mats, grand opening ribbon and all your needs for large conference participations. Click here for a quote.