Choosing the Right Ceremonial Groundbreaking Shovel
Tuesday, May 9, 2017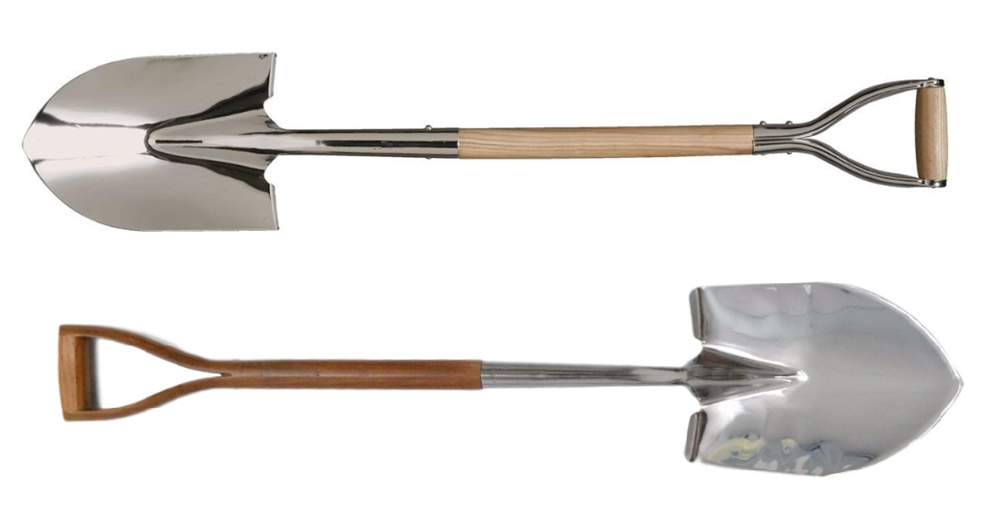 It is widely known in construction circuits that special ceremonial shovels are a necessity for groundbreaking ceremonies, but do you know why? The answer lies in the importance of the event. A groundbreaking ceremony symbolizes the genesis of a new construction project. It is hailed as a milestone in constructing a new facility or remodeling a structure. It is a time when the bigwigs stand in line and turn the first sod at the groundbreaking site as they are tasked with the honor of officially commencing the labor. One can imagine the fervor in their faces. This will be a memory etched in the heart of the creators and the visionaries of the project – one that is distinct and special. And as special as a groundbreaking is at a personal level, it should be just as memorable to the invited guests that are there to witness the project kick-off event. After all, a groundbreaking ceremony is also a great PR move to establish rapport with the community. It is also a great opportunity to celebrate and thank the key people involved for their efforts in bringing the project to fruition. This is when the special shiny shovels come into play.
While you may contemplate over the list of things needed to make your ceremony a special one, you will without a doubt agree that a ceremonial shovel tops the list. As simple as a shovel may seem, choosing one that suits your needs requires a bit of knowledge because not all shovels are the same. It is imperative you do all the "spade work" before you make the selection, especially if you are planning the event for a client.
Choice of Handle and Grip
This may be a crucial choice depending on the preference of the event organizers and the nature of the project. There are two main types of shovels typically used in groundbreaking ceremonies—d-grip and long stem handle shovels. The preference for either may be based on the individual comfort of holding the handle, but the real difference between the two is their purpose.
D-Handle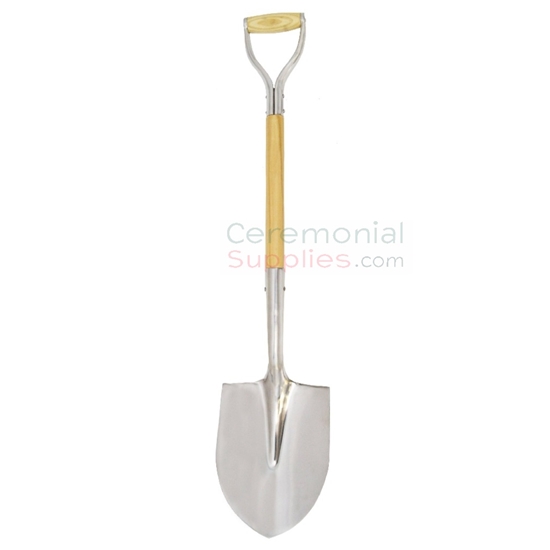 In a real working setting, the d-handle is the best option when it comes to 'lighter work'. D-handles are excellent for scooping up dirt and material debris to move from one place to the other, but they are not the first choice for heavy duty work. Their advantage at a groundbreaking is that they are more aesthetically pleasing, lighter, and more comfortable to handle for a person in a business suit or dress. Ceremonial d-handle shovels usually have a metallic lining at the grip that matches nicely with the shiny blade. Because of their visual appeal, d-handle shovels are probably the best option for groundbreakings as they also display very nicely in pictures. Plus, due to their compact size (between 38" and 42"), d-handle shovels make for excellent keepsakes that can be easily framed in shovel display cases.
Long Stem Handle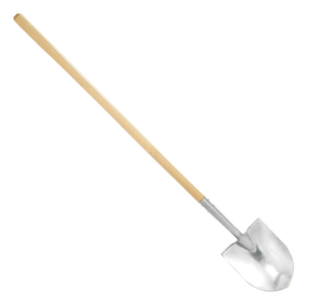 While d-handles have the nicer look, they may not necessarily be what the event organizers have in mind for a groundbreaking. Wishing to stay true to their functionality, some event organizers prefer to use long stem handle shovels for groundbreakings. Long stem handles are actually what you would use at a construction site for digging and breaking ground, so using this type of shovel is actually most appropriate considering the nature of the ceremony. However, there are some disadvantages that gave way for the d-handle to be the more popular tool. For one, they are too long and bulky in comparison. A long handle shovel can measure up to 62" in length, making them heavier and more difficult to manuever in formal attire. Also, the long stem is usually pure wood, so there is no additional décor like the matching metallic metal grip that you would see on a d-handle. That is not to say that they won't look good in pictures, but they won't look as nice as their smaller counterparts. Also, the size of the stem, in this case, makes them more difficult to store as keepsakes since there aren't too many display cases that size.
Material and Finish
With ceremonial shovels, it all boils down to the quality and looks. A ceremonial shovel should be unique to its cause and a class apart from the traditional version of the tool. It is to be preserved in the ensuing days for display so it must look like something you treasure. The type of metal and the finish on the spade are the two most important contributors to this look.
1. Stainless Steel Shovel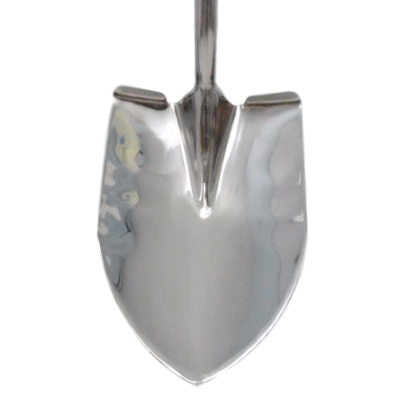 Depending on your budget, a stainless steel shovel may be your best option. In cases where you have many dignitaries present to perform at the ceremony, the polished steel shovel will fit the bill. While it is not chrome plated, the polished stainless steel finish offers a similar luster and color. This shiny shovel is economical and priced to fit just about any budget! But don't let its affordability fool you, stainless steel shovels are known for their quality and durability. A polished stainless steel shovel is strong, steady and corrosion free; it would last you for a good long time, even if you were to use it as a working shovel. For its low cost, a polished steel shovel fares very well against its chromed counterparts. This is through and through a stainless steel product that will display very nicely at the event and as a keepsake thereafter.
2. Chrome Head Shovel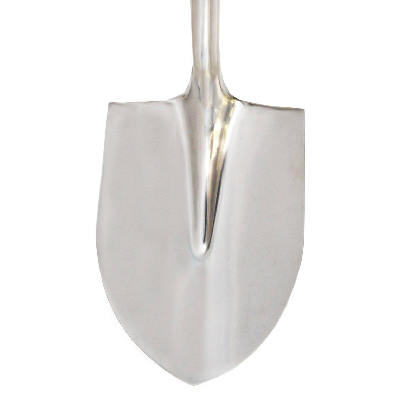 The next best option and the most common selection for groundbreaking ceremonies is the chrome finish shovel. This should be your go to shovel for most occasions. Even on a budget, you may still be able to comfortably afford it. The chrome plating gives a clean finish and has a better-defined mirror reflection that adds shine and sparkle to your shovel. If you have some elite folks at the groundbreaking, they will certainly appreciate chrome-plated shovels to match their caliber. These high luster shovels add to the elegance of the ceremony fitting in perfectly with the decorative theme. A chrome finished shovel has its perquisites – it adds to the décor, it's easy to clean and it is stain-free.
3. Golden Shovel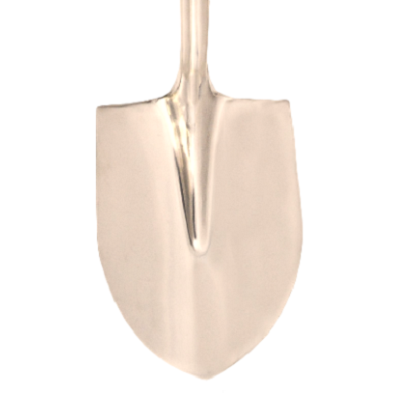 This special shovel could be reserved for the most venerated people at the groundbreaking–the company president, CEO, or the chairman—but in most cases, it is issued to every participant because it makes everyone feel extra special. It's dazzling in appeal and adds the oomph factor. It is the 'gold-standard' of ceremonial shovels and it is worth every penny. You will end up with beautiful pictures, dazzled guests and a luxurious keepsake for the participants.
Having it Your Way
All ceremonial shovels are specially designed to reflect the importance of the ceremony, but what really adds your (or your company's) signature is customization. Adding the company logo and text to the spade or directly to the handle will commemorate your event; making any shovel you choose an instant token that will explain the reason for such a decor. You may also use vibrantly colored bows to add a touch of glamor and attract attention to the ceremonial stage. Keep in mind, a groundbreaking ceremony will give you plenty of photo opportunities and small details like customization and décor will play a big role in promoting your company and/or project.
CeremonialSupplies.com specializes, not only in ceremonial shovels but we also customize them with engraved text commemorating your event. No matter what shovel you choose, it will always be exclusive.