Groundbreaking Shovels Take Center Stage In The Gem State Boom!
Wednesday, May 8, 2019
Idaho, is much like the rest of the United States in many things, particularly in its growing service industry, dominated mostly by wholesale and retail of foods, but unlike the rest of the country, Idaho's agriculture and mining industries are as supportive to the economy as the service sectors, and as a matter of fact, it was mining that first made Idaho famous. Idaho is a land of rugged beauty and wilderness with one of the most diverse land tapestries in the world - from sub-alpine to desert, lush farms and granite mountains, waterfalls, lakes, canyons and gorges, Idaho has much to boast about! Everything in Idaho is more outstanding than anywhere else, for example, Hell's Canyon is the deepest in North America, deeper than the Grand Canyon; Shoshone Falls on Snake River, in Twin Falls, are higher waterfalls than Niagara Falls; Sun Valley was the first major ski resort in the country, and so on with many features that make Idaho a special place. And now that Californians have priced themselves out of their increasingly expensive metro areas, they are flooding Boise and causing the biggest construction boom in the country. CeremonialSupplies.com loves construction developments! Because we're all about ceremonies that celebrate first sod-cuttings, laying of the corner stone, and grand openings. Watch out as our ceremonial groundbreaking shovels take center stage in the Gem State boom!
What are the indicators of a booming construction spurt? Apparently microbreweries and condo complexes. Well that, and maybe congested streets, new skyscrapers, and the relocation of big tech firms. Expansive community developments too, like Syringa Valley's proposed two thousand new homes and a projected multipurpose stadium and riverfront library planned for Boise are clear signs of construction growth. This is not just for Boise either, cities like Nampa, Meridian, and Idaho Falls are experiencing congested streets too! Rapid growth is visible in Coeur d'Alene with more tourism and the city is planning waterfront public improvements, parks, and highways! CeremonialSupplies.com is pleased to follow the City of Boise and the jewel that is Idaho, and our facilities are ready to increase our supply of ceremonial groundbreaking shovels to the Gem State! Especially now that we have a new addition of colorful, full-size ceremonial shovels that represent just about every gem color in the spectrum!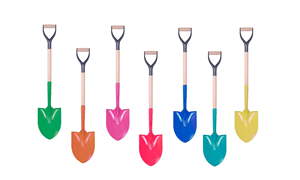 All our ceremonial groundbreaking shovels are made from stainless steel and will not rust or stain with time, and although they are "ceremonial" meaning for show and photographs, during a first-sod cutting, they are full-size at 42" with a 9.5" blade width and can in fact, be used to shovel dirt - if you should want. Depending on the type of groundbreaking ceremony, and budget, CeremonialSupplies.com has a varied selection that is sure to suit your theme, decor, and wallet! From our Standard and Deluxe ceremonial groundbreaking shovels, with polished steel and polished chrome respectively, to the VIP mirror polished finished ceremonial shovel, and the color spectrum of red, blue, green, orange, pink, and yellow steel shovels, you can have these D-style grip models customized either on the top wood portion of the handle, the stem, the blade, or all three! For the more traditional style, we have the long stem ceremonial groundbreaking shovel, also available for customization and in the design of traditional work shovels! To go along with the ceremonial shovel, we have a selection of hard hats in various colors, including the popular yellow hard hats! All the hard hats can be customized, bearing in mind that color on white stands out the most. However, many company logos and colors have been color matched with our ceremonial hard hats - see our colorful, industry standard selection here. In addition to our single products, we also have ready to go groundbreaking kits that include the ceremonial shovel and hard hat with a bow, or the shovel and hard hat on a display stand. The display stand comes in handy before and after the actual sod-cutting when the shovel or shovels are on display and can be used to create an official photo area for the guests. Oh! and now, to include children and kids accompanying their parent on this landmark occasion, we have mini-sized color groundbreaking kids shovels!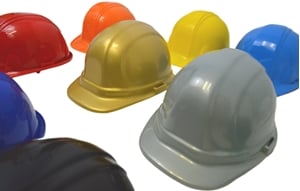 When you prepare a groundbreaking ceremony in the Gem State, consider the high quality and craftsmanship of CeremonialSupplies.com groundbreaking shovels, our ready-to-go groundbreaking kits, our hard hats, and our display stands and display cases. Our prices are budget friendly, our customer service staff is attentive and knowledgeable, and we ship to every town and city in Idaho and everywhere in the world! Shop with CeremonialSupplies.com, the best one-stop online shop on the web for all your groundbreaking ceremony products. Click here for a shipping quote.