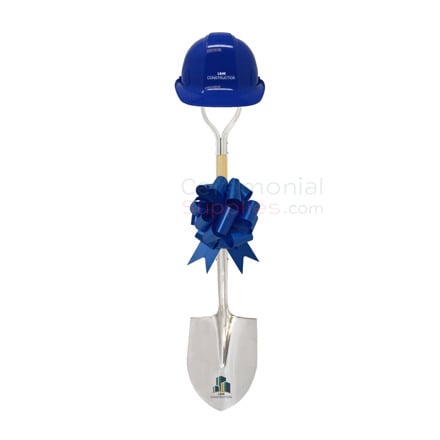 All the essential products you'll need at your groundbreaking ceremony, this kit includes a carefully selected combination of tools and corresponding accessories and presents them as a single set. Your purchase comes with a deluxe groundbreaking shovel measuring an impressive 41.25 inches in height, a ceremonial hard hat and an 8 inch bow in a matching color of your choosing. The colors available are red, white, blue, orange and green.
Need to personalize your kit? You can have your shovel and hard hats custom printed in full color or have a custom printed vinyl decal with your logo or commemorative text.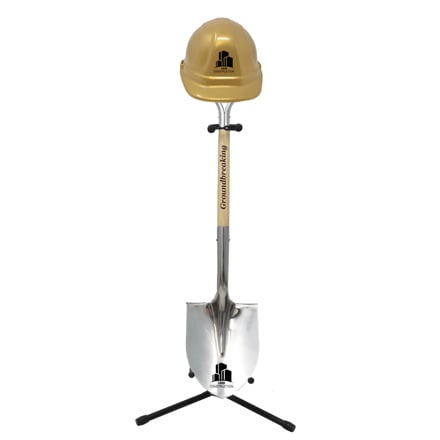 A set of elegant groundbreaking accessories, this kit collects all the essential items that are needed at a groundbreaking ceremony and presents them in a simple package. Your purchase includes a deluxe ceremonial groundbreaking shovel, a shovel display stand and a ceremonial hard hat in either of two luxurious colors - gold or silver.
Complete Kits for a Groundbreaking Ceremonies
Groundbreaking ceremonies have a special significance for companies involved in projects such as construction, remodelling, et. al. A commemorative groundbreaking ceremony traditionally involves shovelling a portion of the earth to invite good luck for the project, and because of the ceremony's enthusiastic and ornate nature, more and more companies are investing in high quality groundbreaking kits. As the name implies, a commemorative groundbreaking kit is a set items that are important to a groundbreaking ceremony. While shovels and hard hats seem like the only choice, there is more to it. The ceremony's decorative nature calls for special ceremonial hard hats and shovels, along with an assortment of decorative accessories to do the mood justice. A groundbreaking kit simply collects all such accessories to minimize the efforts involved in procuring the same.
What Does a Groundbreaking Kit Contain?
All groundbreaking kits contain the two most important items, ceremonial hard hats and ceremonial shovels, to celebrate the spirit of the ceremony. Ceremonial hard hats differ from their industrial counterparts as where a traditional hard hat prioritizes protection over aesthetics, the ceremonial hard hats included in a groundbreaking kit are more visually titillating. Ceremonial hard hats are primarily used for marketing, photo opportunities or being kept as a souvenir, and thus are available in a wider color gamut and with a customizable blank shell. The same philosophy extends to the ceremonial shovels a groundbreaking kit includes as well. Traditional shovels are utilitarian in nature, whereas ceremonial shovels are more decorative, with their intended usage being considerably lesser than a traditional one. Ceremonial shovels tend to opt for a high sheen look, and thus their handles are made either out of a polished wood, such as oak, or polished steel. The blade and the grip of the commemorative shovel similarly continue the high sheen look, and are either chrome plated, or made of polished steel. Apart from the two must-have items, a groundbreaking kit also consists of numerous accessories to put the finishing touches on a groundbreaking ceremony, such as a groundbreaking lapel pin, or a decorative bow. The bow is a versatile decoration, as you can either have it for a ribbon cutting (if you're going for it at your ceremony), or simply put it on the shovel or another accessory and add some oomph to it. Lapel pins are a similarly versatile tool to have, as by giving every participant in the ceremony a lapel pin and having them wear it, you can create a sense of solidarity towards the project. Furthermore, the lapel pins make an excellent souvenir post ceremony.
Selecting the Right Groundbreaking Kit
Groundbreaking kits can be had in as small and as large a size as you require, with as many accessories included as you might need for your ceremony. Understanding the need for variety to successfully meet all needs, CeremonialSupplies.com maintains a collection of groundbreaking kits in all sizes. Browse through the groundbreaking kits section of the website, and choose the groundbreaking kit that's the right size for you.