Finally seeing signs of recovery from Covid-19, the Constitution State announced the lifting of mask mandates and you bet we'll be seeing grand opening ribbons all over Connecticut in time to celebrate the 4th of July in style! If you are planning a grand opening ceremony in Connecticut, shop for all your needs at CeremonialSupplies.com, the best one-stop shop on the web for all things ceremonial. Let us help you every step of the way. CeremonialSupplies.com has a long-standing reputation for excellent quality products, friendly prices, knowledgeable and responsive customer service and fast shipping to Connecticut – or anywhere else in the nation! Whether your grand opening is taking place in a big city like Bridgeport, or a smaller town like Danbury, a big, wide ribbon for your grand opening will carry a big punch!
Say It Louder With A Wide Customized Ribbon!
A ceremonial ribbon for a grand opening ceremony should shout out the name of the business and for that, you need a wide ribbon that will be the spotlight of the ceremony! A big wide ribbon will certainly pop your message louder! CeremonialSupplies.com has a selection of ribbons that range from 2.25" ceremonial ribbon used for keepsake printing of a commemorative message and date and attached to balloons, or hung down from the ceiling, 4" ribbon for sashes and bows, 6" ribbon and 8" ribbon that are popular for grand opening cuttings, and the 10" ribbon extra-wide to really make your message stand out! We also have 12" ribbon that can be used for a big entrance grand opening, or as banner flags to decorate the inside of your store or business. We have your grand opening ribbon for all the decorations you need! Custom ribbons with your brand or company's name, or pre-printed "Grand Opening available in astonishing colors! Remember the ceremonial ribbon in a grand opening is a focal point - make the most of it. The objective of a grand opening celebration is to let everyone know you are in business in their community and a big, bold, message on the opening ribbon will serve this purpose and more, especially if the media is there! A good size grand opening ribbon can be 8", 10", or 12" the last of which can also be printed to create customized flag displays.
Ceremonialsupplies.com has the best online selection of ceremonial ribbons and offers pre-printed "Grand Opening" ribbons in 6" width, and ready-to-go grand opening kits that include ribbon-cutting scissors - available in traditional and giant size styles, with pre-printed or customized message, and crowd stanchions and carpet! It's not every day you can have a grand opening for your business or your shop, so make the best of the Connecticut business reopening after Covid 19 pandemic, and let the community know you're back on the saddle! Your imagination is the limit at Ceremonialsupplies.com. We ship to Bridgeport, New Haven and Hartford, Stamford, Waterbury and Norfolk, Connecticut (and anywhere else in the world for that matter!) and our quality products are offered at wallet-friendly prices.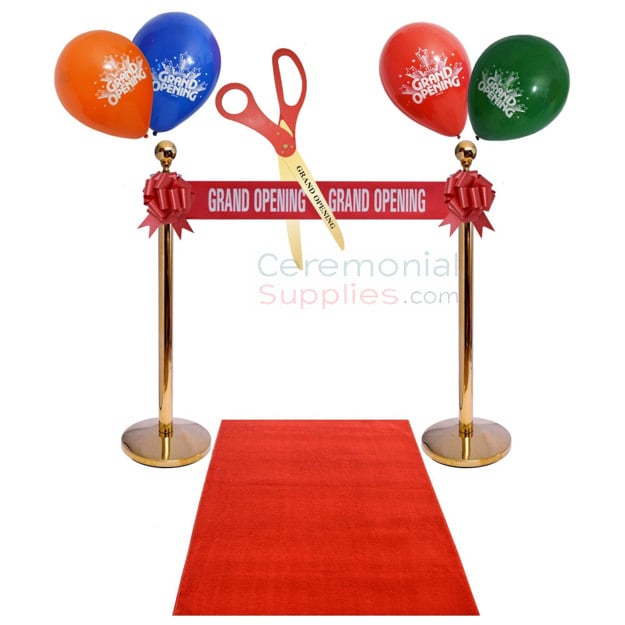 Grand Openings with Connecticut Themes!
Grand opening speeches and event ceremonies can be themed using memorable historic or present day accomplishments. Examples are the historic seaport city of Bridgeport and its once busy industrial hub, vs the Bridgeport of today, with the city's economy being service-oriented and healthcare leading the economy. New Haven, Connecticut, was established as a Puritan community in 1638, making it one of the oldest cities in the nation. New Haven houses the prestigious Yale University and the city is known as the cultural center of Connecticut. Stamford isn't a very large city at all, but it houses the second largest financial district in the New York metropolitan area, following the New York financial district itself. This means many decorative green dollar signs for business grand openings in Stamford, Connecticut! Ceremonialsupplies.com has the perfect green color ribbon and matching green bows and green handle ceremonial scissors to make a financial grand opening statement in Stamford! Party planning is known to draw highly intuitive people to this field of decoration, and to party planners historical references are a great resource from which to draw for creativity. Connecticut was one of the original 13 colonies, this alone represents a wealth of resources for grand opening themes in the Constitution State! Other cities like Waterbury, Norwalk, and Danbury offer their respectively unique architecture, attractions and traditions. Historical locations are naturally inspiring for a grand opening event.
Accessorize your Grand Opening Event!
We love parties and gatherings! It's a human thing. This is why at Ceremonialsupplies.com we provide everything you can possibly need for traditional ceremonies like grand openings, groundbreakings, and military events. Ceremonialsupplies.com is the best one-stop shop on the internet for the supplies that make for professional grade events! One you've determined the color scheme and theme of your Connecticut opening event, select the ribbon, the ceremonial scissors, and scale up the event with stanchions, bows, display stand for the ceremonial scissors, and even a carpet runner and step and repeat backdrop by shopping ceremonialsupplies.com. If your ribbon and scissors will be customized with a company logo and commemorative date you'll want to get your order in as soon as possible – this saves you time and money in the long run.
Other accessories are roll up vertical banner signs, grand opening balloons, award plaques and souvenirs. Everything you need to create an outstanding front entrance grand opening image that will proudly live on in photographs and videos, and everything you need to recognize and honor those whose involvement made the event possible. As Covid 19 begins to recede and those Connecticut business that survived the economic shut down start to bloom, grand opening celebrations will be taking place in Connecticut and ceremonialsupplies.com offers quality products and effective delivery to the Constitution State – and everywhere else in the country!