Do you need groundbreaking shovels for traditional ceremonies in Hawaii? From groundbreaking shovels to hard hats, red carpet, stanchions and rope, and many more items, CeremonialSupplies.com has the essentials for memorable groundbreaking ceremonies in Hawaii. Groundbreaking ceremonies are traditional, architectural rituals that in ancient times were meant to consecrate the ground upon which construction would take place. Today, it is done as a formality, if at all. However there seems to be a surge (maybe thanks to our great blogs!) in raising conscience of what it means to break ground for a project that up to then, lived only in architectural plans. Large corporations and construction companies see the promotional potential in these events and we are seeing more groundbreaking shovels hitting first dirt! Hawaii is known as one of the top honeymoon destinations in the world, and a huge tourist destination in general, but technological advances in Hawaii's construction industry are making the housing development more efficient, and thereby more affordable. The construction boom in high-rises may have hit a plateau in Hawaii, but CeremonialSupplies.com is busy ensuring that before the Aloha State's next spike in cranes up in the sky, the ancient volcanic ground is properly dedicated with our ceremonial groundbreaking shovels!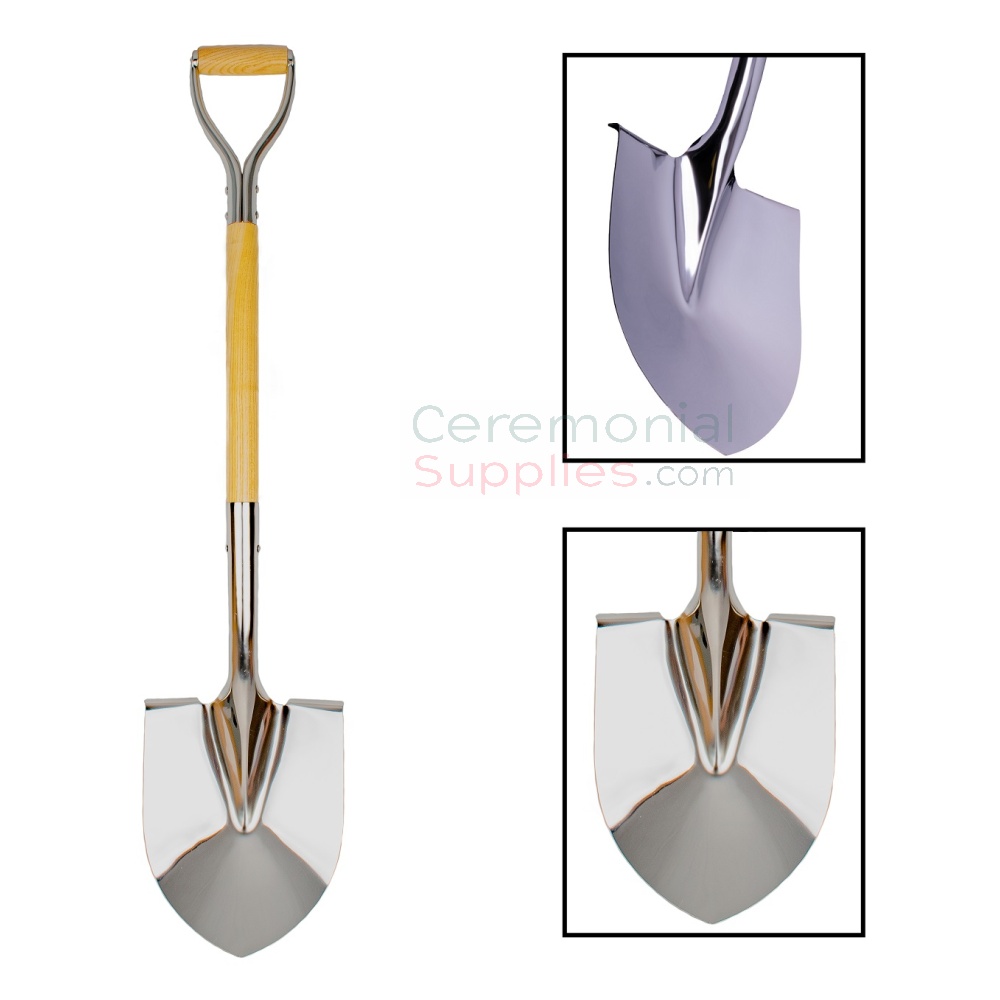 General Contractors like Hawaiian Dredging Construction Company, for example, which has a legacy that goes back to the dredging of Pearl Harbor's main channel, Ala Wai Canal, to enable the development of Waikiki, the vacation destination of the world, is a company we admire for the growth and diversity they've experienced. Hawaiian Dredging leads the industry in construction service projects that range from hospitality, commercial, and residential to institutional, healthcare, and major infrastructures. Maui, Kauai, and Oahu are seeing home sales gains and condo building, and as economic markers continue to indicate steady growth, we at CeremonialSupplies.com are looking forward to being part of Hawaii's groundbreakings by supplying the best quality ceremonial shovels at the most economical prices.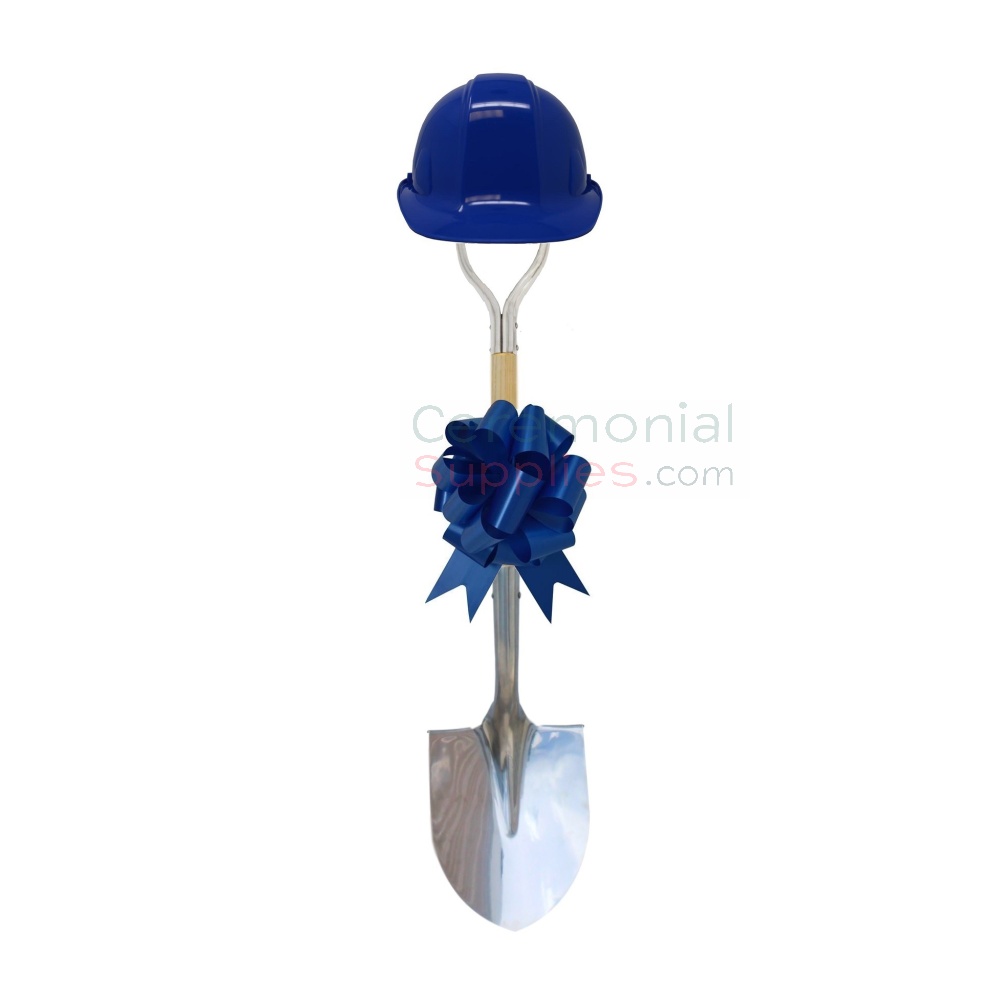 CeremonialSupplies.com is the best online store on the web for customized groundbreaking shovels, hard hats, ceremonial shovel's display stands and many more ceremonial products. Whether you're looking for a single shovel to 50 or more, we have the styles to complement the first sod-cuttings of Hawaiian grounds. All our groundbreaking shovels are full size (42" with 9.5" blade), made from high grade stainless steel, and have the ceremonial D-style handles, except for the traditional long stem groundbreaking shovel for those groundbreakings that wish to feature the style of shovel most associated with a construction. The styles range from the standard, polished steel ceremonial shovel with wood handle, the deluxe polished chrome shovel with metal and wood handle, and the VIP mirror polished groundbreaking shovel with steel and wood handle, to the long stem shovel, the colorful groundbreaking shovels with color blades in red, blue, green, orange, yellow, pink, and white. For those ceremonies that include kids, such as the groundbreaking ceremony on March 29 in Keaau for a new multipurpose building at Malamalama Waldorf School, CeremonialSupplies.com offers a selection of mini-sized shovels (26" with a 6" blade) with a D-style handle and blades of different colors. These groundbreaking kids shovels come in red, blue, green, yellow, orange, pink, and teal. All our shovels can be personalized on the shovel blade, the stem, the handle, or all three! The mini-shovels are also used as keepsake mementos of a groundbreaking ceremony. They are half the size and can be displayed on a wall.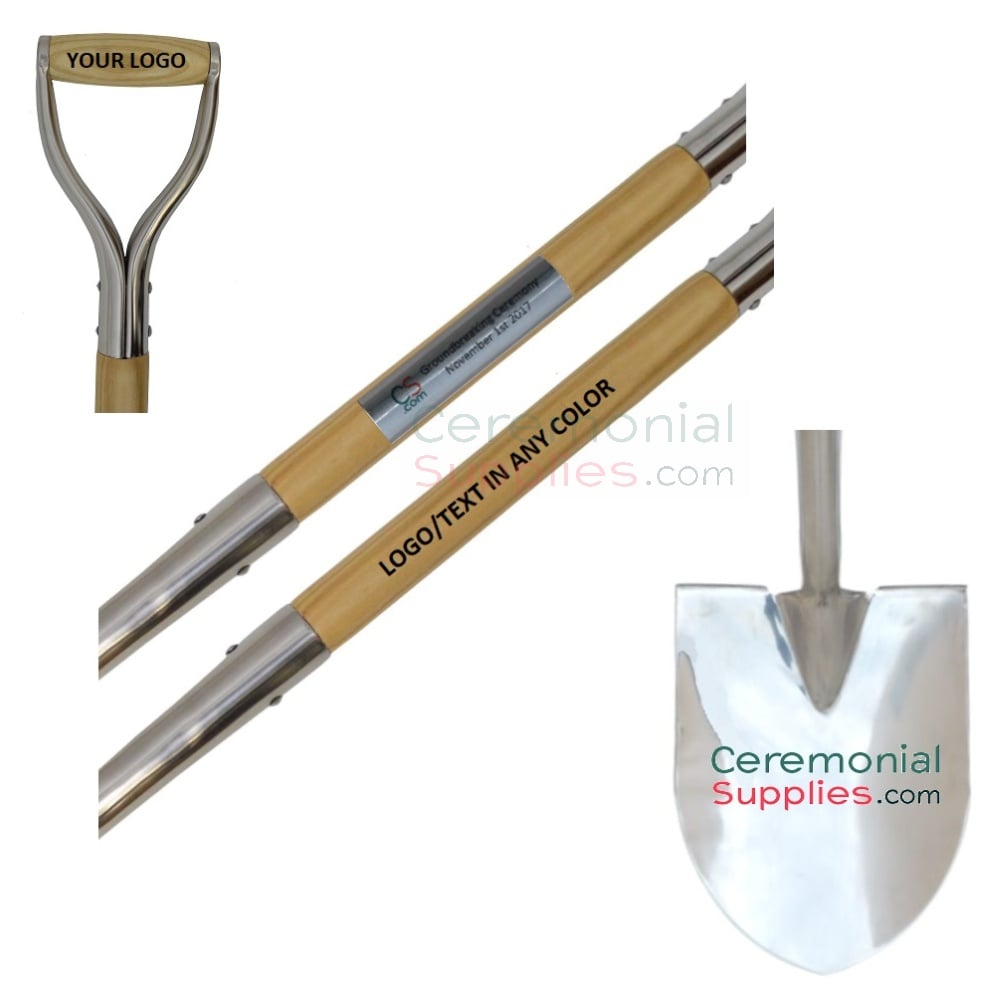 The Niumalu Marketplace broke ground in Kailua-Kona last year in June. Located in the heart of West Hawaii, the Niumalu Marketplace is luring big name retailers and food chains such as Safeway into the community. What was truly unique about this groundbreaking was the consecration of the ground, a tradition in Hawaii that is steeped in the spirit and culture of the islands. The ceremony was carried out by Kahu Danny Akaka who learned the ancient chants from oli master and priest, Khu Keli'i Tau'a. The invocations in this groundbreaking ceremony were as close to the ancient traditions of this architectural ritual as we can have these days, but it is an indication that traditions of our ancient cultures, are finding their way into our modern world. With this in mind, CeremonialSupplies.com continues to strive to provide the best groundbreaking shovels to properly honor these traditions, and also make available products that will enhance the ceremonial aspect of the event, such as display stands for the ceremonial shovels before, and after the actual sod-cutting. Staging the ceremonial shovels on their stands, dressed with the hard hat and color bow, will provide a photo opportunity for the guests and attendees. For this purpose, we have ready-to-go groundbreaking kits that include the display stands, as well as the basic kit, which is the groundbreaking shovel and hard hat. Whatever your decoration goals are, we can help you take them to the next level! Shop CeremonialSupplies.com for your groundbreaking shovels, hard hats, shovel display stands and display cases, and all our other ceremonial items. You will love the crafted quality of our products, our attentive and knowledgeable customer service, and our prompt and efficient shipping wherever you are in Hawaii - from The Big island, to Maui, Molokai, Lanai, Oahu, Kauai, and Nihau - and anywhere in the world for that matter! Click here for a shipping quote.