Looking for Crowd Management Solutions in Arizona?
Thursday, March 14, 2019
If you're looking for crowd management solutions in Arizona, CeremonialSupplies.com is the best all-in-one shop on the internet for every style of stanchions and rope to complement the decor of venues ranging from restaurants and night clubs, to fancy hotels and museum galas. Stanchions, which are upright standing, slim cylinder posts connected with rope or a retractable belt, are also called "barrier posts," and "rope railings," and are essential for guiding the flow of attendees to an event. CeremonialSupplies.com offers budget friendly prices for stanchions and rope in a variety of materials, colors, and styles designed for use in various industries and businesses flourishing in Arizona. Whether for an outdoor event like the Arizona State Fair, a red carpet entrance at the Chandler International Film Festival, or creating a customer waiting line at the Arizona Bank and Trust, our crowd management products will suit your crowd control needs.
Classical Stanchions and Rope For A Lavish Arizona Event
CeremonialSupplies.com offers a competitively priced selection of high quality choices of the most popular decorative posts and ropes styles available for high-end events in the Grand Canyon State. Our decorative classic brass, chrome plated or black matte stanchions are a perfect match for lavish events that require glamour and sophistication. The top of the posts come in the traditional, ball dome shape, urn, or flat top. Depending on preference and event aesthetics, you have several choices of rope for your classic stanchion including braided ropes, or plush, velvet ropes to provide many possible combinations.
Retractable Belt Stanchions For Efficient Crowd Control
The retractable belt stanchions have a belt cassette feature which is an added advantage over the traditional stanchion and rope style because the belt cassette allows flexibility in arranging the queue with endless configurations to manage the crowd in any way required. CeremonialSupplies.com offers 4-way retractable belt stanchions made from durable steel in matte finish, with a belt that extends up to 6.5' available in black, royal blue, red, or grey. Retractable stanchions are ideal for high traffic areas such as the international airports in Phoenix Sky Harbor, Tucson, Yuma, Bisbee, and Nogales or stadiums like Chase Field in Phoenix, State Farm and Wells Fargo arenas in Glendale and Tempe respectively, or Scottsdale Stadium. For events where visibility is important, such as the Cruisin' Yuma Car Show or the Annual Collectors Car Show, we offer mini stanchions in chrome, brass, and black matte, with a height of 24", with retractable belt that can extend up to 11' to maximize space economy. These barrier posts are designed to protect an exhibit or display while saving floor space for better view and reduction of risk of damage to the display. Retractable belt posts are also available with sign frames, a two-sided, stainless steel chrome finish in 3 sizes (7 x 11, 8.5 x 11, and 11 x 14) with an attachment cup that easily locks into our 4-way stanchion adapter top. Businesses everywhere are finding that stanchions are an essential, must have items that will always come in handy when an organized flow of people is desired.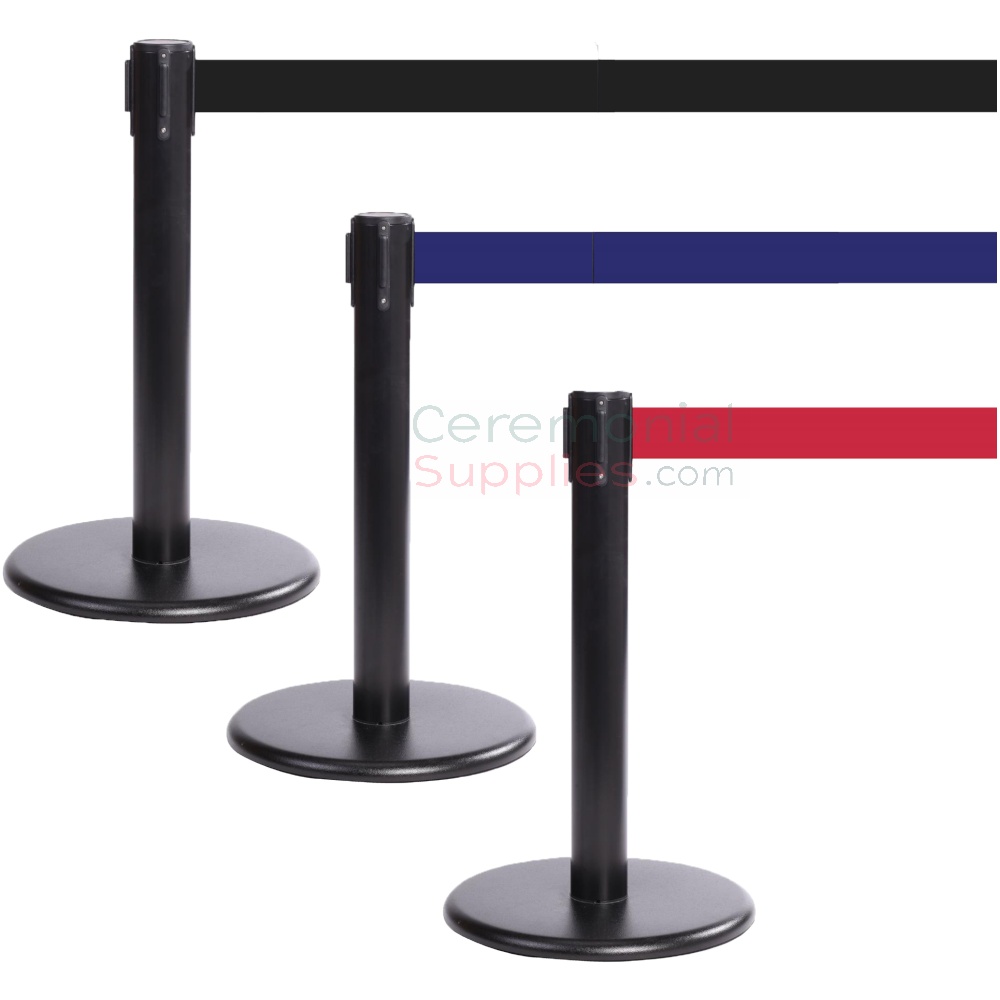 Plastic Stanchions
CeremonialSupplies.com offers high quality, light weight, portable and durable plastic stanchions constructed from high density polyethylene material that are designed for outdoor or indoor use. These economic, weatherproof plastic stanchions are sturdy and they each include a pole with a hollow base, and a plastic link chain with a C-hook attachment. The hollow base is light for transport and is also meant to be weighed down with sand or water as a stabilizing filler when ready for use. The stanchion poles are available in black, white, and yellow. These sturdy stanchions are rustproof, waterproof, and fade resistant making them perfect for outdoor use but still decorative enough for indoor. They are ideal for venues like the Pima Air and Space Museum in Tucson, the Mt. Lemmon Observatory, the Scottsdale's Museum of the West, or the International Gallery of Fine Art in Sedona.
Sign Frames For Retractable Stanchions
CeremonialSupplies.com offers sign frames for retractable stanchions available in portrait or landscape orientation, with a black matte finish or chrome frame. These attachable frames can be used to give directions within your business, or use the frame to feature a special promotion, a sales ad, or similar communication. The stanchion sign frame is a great way to maintain engaged those people waiting in a long line.
If your business requires crowd management, CeremonialSupplies.com has the high quality, crafted, stanchions, posts, and ropes or belts that you need, at budget friendly prices. Our customer service is personable and knowledgeable and we ship promptly and efficiently to every corner in the Grand Canyon State! From Page and Kayenta to Kingman, Bullhead City, Prescott, Alpine, Douglas, Yuma and everywhere in between! As a matter of fact, we ship smoothly all over the world. Shop at CeremonialSupplies.com for all your crowd management needs. Contact us here for a shipping quote.