A quick search will show the number of Idaho groundbreaking ceremonies surging as construction booms in the Gem State. About 26,000 people moved to Idaho in 2018, and the number spiked in 2020 and continues to grow. An end-of year report in 2020 showed Boise, Idaho, Meridian, Idaho, and Nampa, Idaho are in the top 10 fastest growing cities in the country. We can just imagine what that represents locally. It is no wonder that CeremonialSupplies.com has spotted a growing number of shipments to the ruggedly beautiful Gem State! Groundbreaking ceremonies in climates where the Four Seasons are observed by nature, spring, summer, and fall in Idaho get to experience the peak in construction projects. Whether for a public building, or private entities, the tradition of first sod-cuttings continue to inspire creative, fun, and entertaining ways to conduct a groundbreaking ceremony in comfort and elegance. Even in the most exquisite and unique sod-cutting ceremonies, some things remain constant and invariable to their success: Timing, Supplies, Execution, and Follow-up. Here's what to remember about each, for a memorable Idaho groundbreaking ceremony that will shine like a gem!

Timing is the Foundation of Planning
We have all heard the phrase "planning is everything." This is true, but the foundation of planning is timing. Planning is necessary for the success of any event, venture, or launch. Ancient civilizations had philosophies based on consultation to elders, who in turn would consult the source of their wisdom. "God" or what was known, as god or gods, to the plebian population, was, in some accounts, merely the knowledge of the elements, their functions, and practicing them. Think of CeremonialSupplies.com as those elders with a combined source of wisdom we offer through our salesmanship, our customer service, friendly prices and our prompt and efficient shipping anywhere in Idaho (or any other place that appears on a commercial map!) Plan! Write out the guest list, the media list, the VIP list, the entertainment list, the scope of updating and maintaining the guest list, the budget, the wish list! Write it ALL down. Keep it in a 3-hole binder. Easy to insert paper, easy to tear out. Planning events too far out in advance may cause the event to keep being pushed back and eventually scratched off completely. Planning events under the stress of urgency runs the risk of having the same effect (or worse) than if, you had done nothing at all. Without timing, planning is useless. Last minute contacts to local celebrities or local VIPS sound desperate and people are more hesitant to participate. Contacting the media, from the Idaho Statesman, Idaho State Journal, Coeur d'Alene Press, the Boise Weekly, the Teton Valley News, to the Shoshone News Press, the Idaho Press Tribune and every paper in town won't matter if the event itself hasn't garnered interest. Ordering supplies begin as soon as you have a firm date for the event, and if you planned correctly, this would be at least 60 days before the event. Especially if you will be ordering labor-intensive supplies, engraved, printed or embroidered products, or both! CeremonialSupplies.com has an exceptional turn-around time from order to shipment and this has earned us the repeat business of our clients.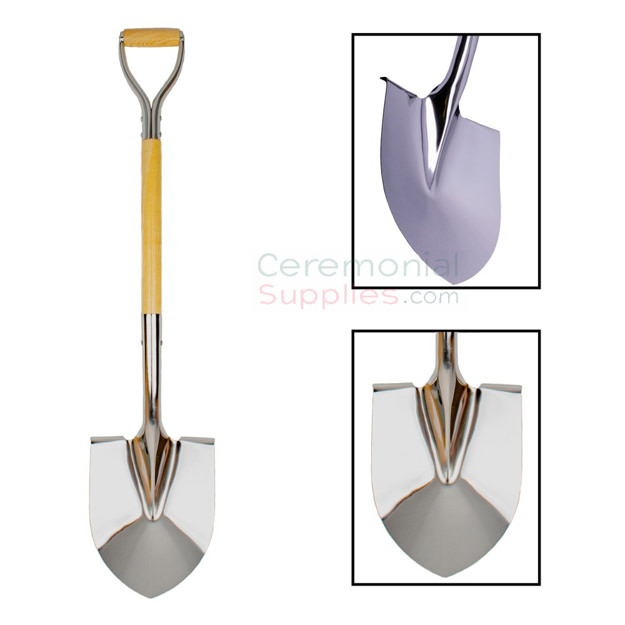 Ordering Ceremonial Shovels and Other Supplies
The basic supplies for a groundbreaking or first sod-cutting event are the ceremonial shovels. Ceremonial groundbreaking shovels are different from traditional work shovels because they have a D-handle. The D-handle shovel allows holding the shovel at an angle where imprint on the handle, stem, and on the blade can be best viewed. This is important for a photo or a video. People tend to hold a ceremonial shovel the same way. CeremonialSupplies.com, easily the best one-stop online shop for all your groundbreaking ceremony supplies has the perfect assortment to help you decide. This is why ordering from us is so easy! Stainless-steel groundbreaking shovels are our specialty and our range of stainless-steel shovels includes more than just the Standard Chrome Shovel, the Deluxe Chrome Shovel, the Mirror-Finish VIP Chrome shovel, and the Mirror-Finish VIP Golden shovel! These are full-length 42" high by 9.5" blade ceremonial shovels with D-handles and customization capabilities on the handle, the stem, and the shovel blade. For a more traditional shovel style, we offer the classic long stem shovel, which, aside from proving excellent for tall individuals, can be customized on the stem and the shovel blade. For strongly branded logos or recognizable names, our full color blades do the trick standing on their own, and these can be customized too. Color on color is a labor-intensive process and with the right color and text combination, your groundbreaking shovels will truly be the stars of the show! Display them before and after the groundbreaking ceremony in their own shovel stand display. Dress up the display with accompanying hard hats and festive bows to match! Once you have established the style of groundbreaking shovel or shovels, whichever the case, think of hard hats and safety vests! Our hard hats and safety vests selections includes industry approved safety measurements, and provide an authentic element to the ceremony while offering further branding capabilities to provide customized hard-hats and customized safety-vests. In these days where the lingering effect of the Covid pandemic are still felt, making your employees visible and easy to spot is important for a company an its interaction within the community. Corporate wearables like dress Polo shirts or classic Oxford shirts with printed or embroidered logo are symbols of class and professionalism. A top-notch construction team holding a groundbreaking would look deservedly sharp wearing a company Polo or a company Oxford shirt topped with a customized safety vest for the groundbreaking pictures!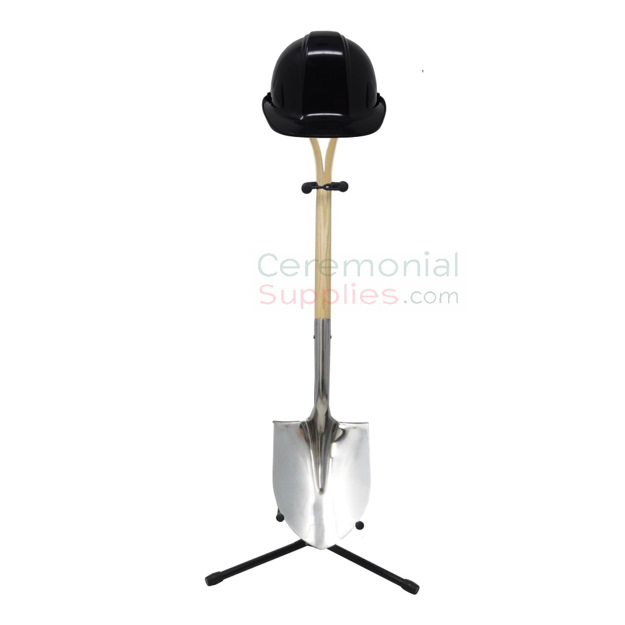 Once you have the basics, everything else is just to take the creativity of the event a notch above and. Idahoan events are known for their class, and "upper crust" elegance and what better way to continue the tradition than by creating a spot for the official guest photo! The ceremonial shovels, dressed with bow and hardhat, placed on their own individual shovel stand will serve the triple purpose of having the groundbreaking shovels at hand, all in one place to retrieve when needed, and a place to hold them again, once the groundbreaking has taken place, and will make an ideal stage for guest photos and videos! Take a look at our groundbreaking shovel kits for easy set-up ideas.
A Project's Execution is Easy When Everything Is In Place!
The world's most famous event and party planners all know the trick to flawless execution is to plan everything so it unfolds automatically. One thing ushers another one and thus the flow of the program appears seamlessly conducted. Creativity is key in execution. This means that aside from using all the tools at your disposal to dress up the event, you can explore creativity found in historical places and locations in or surrounding the groundbreaking spot. For example, in 1805 the Lewis and Clark Corps of Discovery crossed the Continental Divide, at an altitude of 7,373 feet above sea level, through Lehmi Pass, located in the Beaverhead Mountains. This historic event lends itself perfectly for inclusion in a groundbreaking ceremony where a spirit of ruggedness, determination, and longevity is desired. Whatever creative décor you envision, CeremonialSupplies.com can make it materialize for you! We have crowd management stanchions and rope in several styles to help guide your guests throughout the event – and remember, with the option of signs, you can convert any que into an informative hub! From the classic gold-domed stanchions and chrome-urn stanchions, to retractable belt-stanchions and weatherproof PVC plastic hitching-post stanchions, you will find our selection to be the best crowd control posts to meet your needs. With CeremonialSupplies.com assortment of carpet runners and ceremonial carpets, you can use a combination of stanchions and carpet runner to set the stage where the actual groundbreaking will occur. In addition, you can create a Hollywood premiere feel to the event by adding a Step and Repeat backdrop to the presentation stage. This ensures that all photos and videos shot in front of the Step and Repeat essentially become advertising tools after the event as these are shared on Social, Local, National, and International media! Printed wide ribbon runners are excellent to dress up the groundbreaking shovels, the buffet table, chairs, or to create a center bulb on a tent, draping printed color ribbon down the sides. Roll-up banners strategically placed in the four-corners-in formation will further create top of mind awareness among your guests and provides a subliminal continuation of the overall message: "We're here! In your Community! And we are organized, persistent, hard-working, and grateful!" Ideally, anyway, that should be the message.
All the Work is Useless if There's No Follow-up
It may be the most talked about groundbreaking event in the history of building construction in Idaho, but if you don't follow-up with your guests, the special VIPS who offered introductions and speeches, the media, or those who were a critical part of the flow of the program, all your other efforts will be forgotten. Follow-begins the day of the event and it begins by presenting individuals with acknowledgement and recognition. In a groundbreaking ceremony this can be done in a number of ways, including presenting those who took shovel to ground with a display shovel case especially engraved with its own plaque, or the groundbreaking shovel dressed up in its own stand. Local government representatives who attend the groundbreaking and make a commemorative speech or some other type of presentation for the event, are customarily recognized with a plaque or a trophy. Browse our Awards category for a large selection of plaques, trophies and special display cases to honor VIPS at a groundbreaking ceremony. Finally, even the seemingly most insignificant guest can be moved to Ambassadorship for your company with a small token of appreciation. After all, word of mouth is still the most flattering form of publicity! Groundbreaking-shovel pins, printed commemorative ribbons, shovel and rock desk sculptures and other similar goodwill tokens are ideal for souvenirs at a groundbreaking ceremony. Shop CeremonialSupplies.com for all your groundbreaking shovels, and other ceremonial items and your Idaho groundbreaking event will be a Gem! Call or email us today for a shipping quote.