Groundbreaking Shovels Are Striking Arizona Dirt!
Wednesday, March 13, 2019
Legend has it that Montezuma's gold is buried in the ancient territory of "Primeria Alta" in what is today Southern Arizona, and although our ceremonial groundbreaking shovels are striking Arizona dirt, we have no reason to believe as of yet, that they're being used to dig for the precious metal. All groundbreaking ceremonies are based on ancient, architectural ritualistic practices that involve consecration of land upon which a structure is to be built. Some of these practices remain in our modern groundbreaking ceremonies in the form of historical and dedicatory speeches by VIP's, local or even international government dignitaries, and in many cases members of the clergy. It's hard to imagine groundbreaking ceremonies in Arizona wouldn't include a brief account of the key role the area played in the Spanish conquest of Mexico and the expeditions for the fabled Cibola and the Seven Cities of Gold. Whether the first sod-cutting is for a new project by top commercial developers headquartered in the Grand Canyon State like Mark-Taylor, Inc in Scottsdale, Vestar Development Co. in Phoenix, or Plaza Cos. of Peoria, or for startups and investors who have recently discovered the attractive startup costs in cities like Phoenix, Scottsdale, Tucson, Flagstaff, and Tempe, here are some ideas that can be incorporated into groundbreaking ceremonies and items such as the ceremonial groundbreaking shovel (or shovels), hard hats, customized ribbons, ribbon cutting scissors and all the products available at CeremonialSupplies.com to ensure a successful and memorable sod-cutting event in Arizona.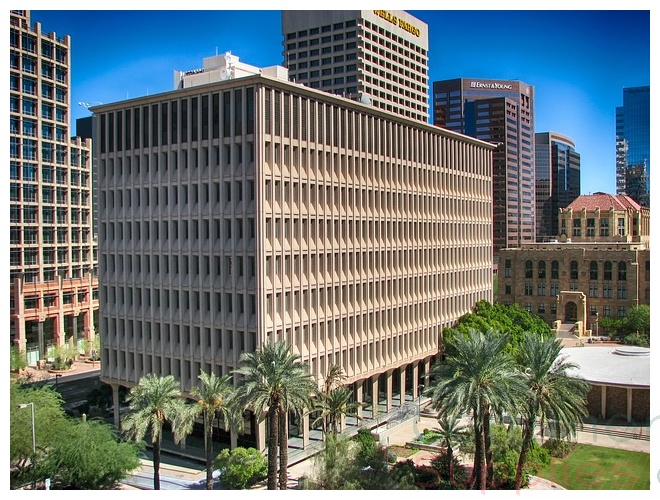 Decorating the Spot of a First Sod-Cutting in Arizona
When decorating the actual spot where the ceremonial groundbreaking shovels will strike first ground in Arizona, a territory deeply associated with the last days of the Mayan Empire, creating a decor that evokes this past will add a touch of drama and passion to the occasion. For instance, the actual spot may be of a size anywhere between 6' - 12' square. A tent would be ideal, and depending on the size of the attending crowd, you may wish for one large enough to comfortably house seating for the guests, a stage for podium and speakers, an area for official photos that will include a step and repeat banner, a red aisle carpet runner and stanchions and rope; an area for food and refreshment tables, and all this in addition to the ground cutting spot that should feature the groundbreaking shovels dressed with bow and hard hat on their individual stands before and after they're used.
The overall decoration of the tent can feature draped ribbons of shimmery colors such as gold, orange, yellow, and intermittent red in varying sizes hanging from the center out. CeremonialSupplies.com offers plain or personalized ribbons that are 4" - 10" wide and perfect for draping. Some of the ribbons should be customized with the name and date of the event, and thereby becoming keepsake mementos for the attendees as well. For the official photo area envision a red aisle carpet runner flanked by shinny brass stanchions and luxurious red velvet rope on one side, and a step and repeat banner with the company name and logo. This scene is ideal for incoming guests to have their photo taken and to hang around behind the barrier posts to watch others arrive, as well as to provide volume in photos and videos, especially if the media will be present.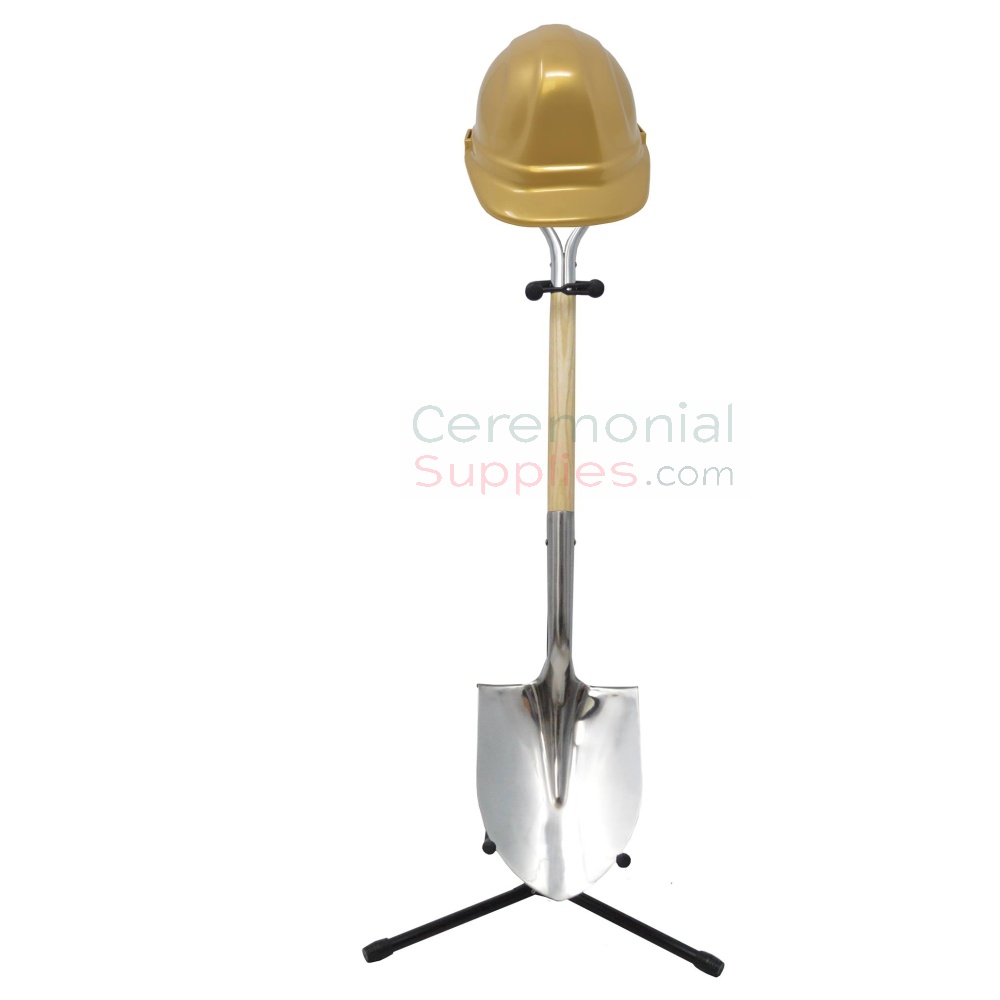 The Groundbreaking Shovels Are The Stars of The Ceremony!
At CeremonialSupplies.com we take first sod-cutting ceremonies to heart, it's our business, and there is no better place on the web to find high quality products, prices that are reasonable and budget friendly, knowledgeable and personable customer service, and flawless shipping directly to wherever you are in Arizona, or anywhere else in the world! We carry all the supplies necessary to put on an unforgettable groundbreaking event, especially the stars of the ceremony: the groundbreaking shovel(s).
With the ceremonial groundbreaking shovel is how you will make an impact at your first sod-cutting ceremony. The designated spot for the ground cutting should be roped off, or in some way designated. We recommend using brass stanchions and red rope as it matches the sun-drenched, golden colored earth of Arizona. Next is the placement of the shovels, facing the crowd, each on its own individual stand, topped with a hard hat and a bow at the stem. CeremonialSupplies.com has an extensive selection of groundbreaking shovels, all with stainless steel blades, ranging from the standard chromed blade and wooden D-style handle, or the traditional, stainless steel blade and long stem, to the deluxe chrome blade with wood and steel handle or the top of the line VIP mirror polished chrome with stylized wood and chrome handle. In addition, we carry colorful, full-size groundbreaking shovels 41" total height with 9.5" blade width, available in green, blue, yellow, orange, pink, and red as well as 26" mini shovels with a 6" blade width that come in red, blue, yellow, orange, green, pink, and teal - with hardwood stem which are ideal for children who will be included in the ceremony. All shovels can be customized on the shovel blade, the stem, and the handle grip, or all three!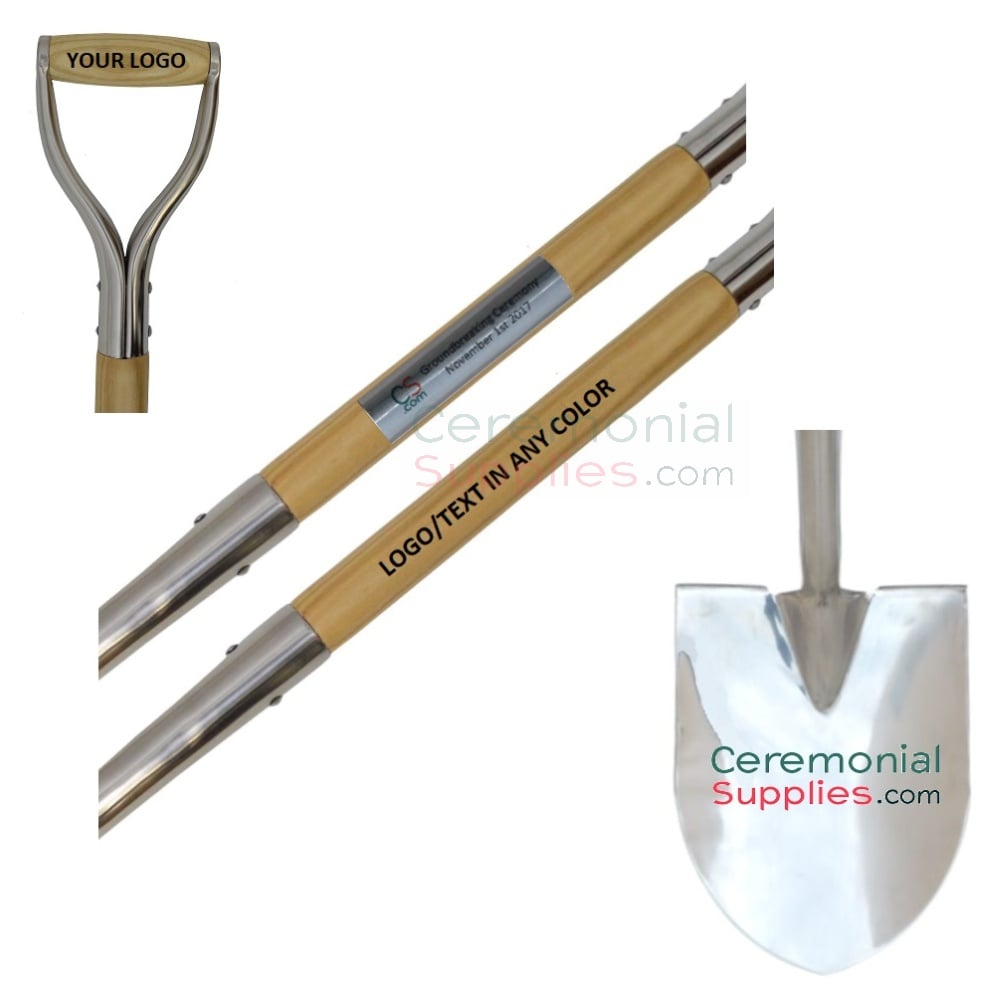 Let the myths of golden treasures inspire your Arizona groundbreaking ceremony and count on CeremonialSupplies.com to provide you with the finest products in the market and prompt and efficient shipping anywhere you are in the State, from Page and Kayenta to Casa Grande, Green Valley, Benson, Tombstone, Nogales and everywhere in between! CeremonialSupplies.com will help you shine! Contact us here for a shipping quote.