Products tagged with 'shovels'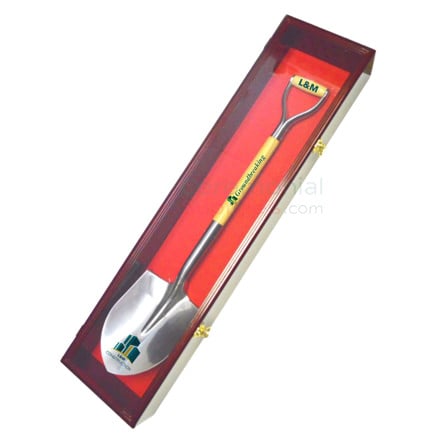 This handcrafted furniture grade Hardwood Display Case has an outside dimension of 45"L X 12"W X 6.00"D, and an inside dimension of 44"L X 9.5"W X 5.25"D. It includes a lockable latch for safety. Made of beech hardwood, and acrylic door. Wood color options include Oak, Walnut, Cherry, and Black. The Interior color options include Red, Blue, Black, White, and Green. The case comes included with all the hardware necessary to hang it on the wall as well as hardware to mount the commemorative shovel inside the case and keep it place no matter which way you hang it. Perfectly accommodates our Deluxe Ceremonial Chrome Head Shovel # SH0002.
Please note: It may take an additional 2-3 business days for processing.

Shovel and Customization Optional.
With the combination of its impressive 41.25 inch height, 9.5 inch blade width and a light 3.4 pound weight made to be wielded via a D-grip, this shovel is both utilitarian as well as striking. The polished wood handle and polished chrome finish shovel blade are simply the icing on the cake.
Other Available Items: